Rome, Italy
Talk

1
1,517pages on
this wiki
Occasional international news over time.
See: Current events and news. Facebook: Global Marijuana March.
See: Cannabis news sources. See: Cannabis news and events archive.

Ronald Reagan, 1980 campaign speech [34]: "Leading medical researchers are coming to the conclusion that marijuana, pot, grass, whatever you want to call it, is probably the most dangerous drug in the United States, and we haven't begun to find out all of the ill effects, but they are permanent ill effects. The loss of memory for example."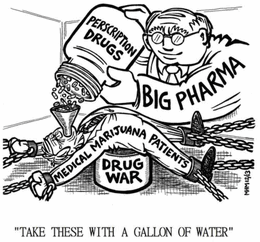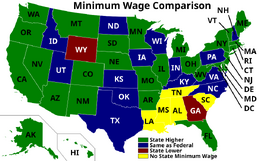 VoteMedicalMarijuana.org - poor legislative record of most Republicans. Their lobbyists have lots of money. [46] -->>
Record high in the Dow, but median wage remains stagnant. [49]. Republicans block cannabis and minimum wage progress.
Voting for most Republicans keeps boots on the ground longer: In cannabis wars, in Sunni-Shia holy wars, in cultural wars of the Religious Right in the USA. It all distracts from the failure of trickle-down economics [55] of the 1%.
If a bigot like Henry Ford can figure out higher wages (and hemp), maybe so can the do-nothing Republican Congress.
Running an economy is simple. The free market concentrates wealth. So progressive taxation is a necessity. Along with a living minimum wage. If money is constantly recycled, then people have money to spend, and unemployment is low. Also, there is less crime, and less spending for police, courts, and prisons. So more money goes to individuals to keep the economy running.
Astounding Percentage Disapprove Of GOP. Some reasons: Republican politicians, private prisons, and sheriffs still want cannabis war. Obama says let states decide. House voted (with only a few Republicans) to let states alone on medical cannabis.
Remember Romney Republicans in 2012? Compare to 2014! Happy days are here again!: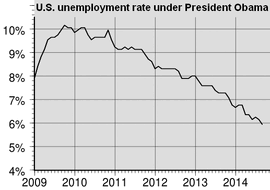 Obama helping turn around the Reagan-Bush War on Cannabis, mandatory minimums, and mass incarceration.

A Crucial Election Season for Legalizing Marijuana and Ending the Drug War - state-by-state info. See also: VoteMedicalMarijuana.org - poor record of most Republicans. Scoring of legislative records of candidates. See: VoteForMarijuana.net - Help fill another database of politicians' records concerning cannabis. [63]. See: Vote Hemp.
Majority Of Employers Say Raise The Minimum Wage. So why do Republicans block it?
U.S. Election, November 4, Tuesday. Absentee and Early Voting. State-by-state info. [75][76]. Turnout matters! State-by-state voter registration deadlines. See: Online registration.[77]. And, Voter Registration by mail. CanIvote.org ~ Are you registered, and where is my polling place.

Obama helping turn around the Reagan-Bush War on Cannabis, mandatory minimums, and mass incarceration: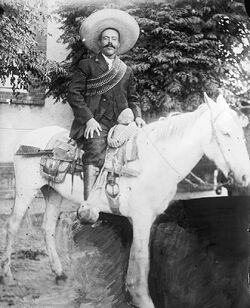 See: Cannabis news sources. Facebook: Global Marijuana March.
More cannabis-related links, city lists, and graphics.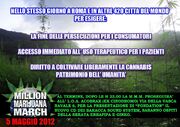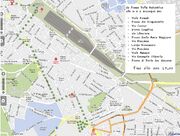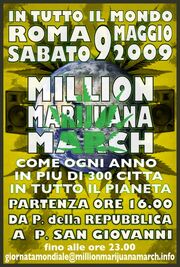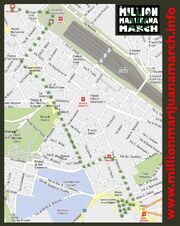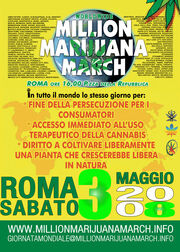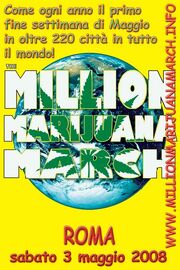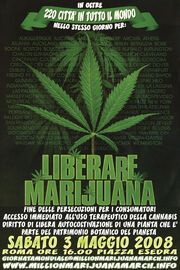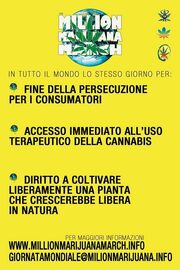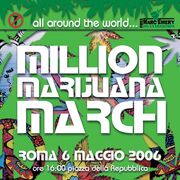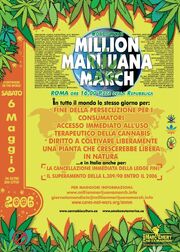 Local links
Edit
City info
Edit
Global Marijuana March
Edit
GMM (years signed up). This city participated or signed up one year (or more) for the Global Marijuana March (GMM), or the Million Marijuana March (MMM). 225 cities from 42 nations signed up for May 4, 2013 or thereabouts.175 cities from 33 nations signed up for May 5, 2012 or thereabouts. See also: 4/20 event lists. 845 different cities have signed up from 76 different nations since 1999.
 Right-click any region for its city list.

GMM:
GMM:
Rome: giornatamondiale(at)millionmarijuanamarch.info INFO LINE: 0039 3393393589 Mefisto gica(at)inventati.org . http://www.millionmarijuanamarch.info
GMM. May 9, 2009.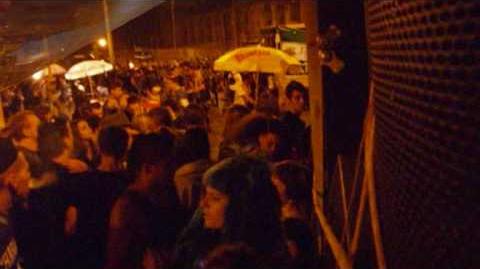 2009 Global Marijuana March in Rome. May 9, 2009. Youtube link.
---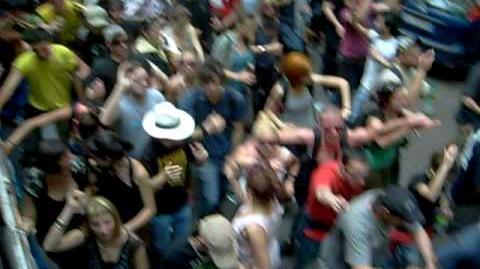 2009 Global Marijuana March in Rome. Youtube link. Some great long crowd shots in the above video. Especially at 38 seconds onwards when the camera rotates to the other side of the sound truck and we see more long crowd shots.
The single largest event took place in Rome, where organizers estimated the crowd gathered at the Plaza San Giovanni at somewhere between 200,000 and 300,000. In Rome, marchers demanded repeal of Italy's L.49 drug law, which they complained is "the toughest in the West."
"What we want is the cancellation of L.49, the end of arrests and increasing persecution against users and self-growers, the right to relief for patients, the end of 1930-style terrorist campaign on media against all scientific evidence, and the official revaluation of the multiple properties of this ancient plant," said Rome event organizer Alberto Sciolari.
Police and the media downplayed the numbers, Sciolari said, but the event was huge. "The plaza was completely full, and there were still thousands of people trying to get in," he reported. "The trade unions held their May Day concert there last weekend, and the TV talked about 'almost one million people' being there then, and our crowd was only slightly smaller."
Rome has emerged as the monster of the Global Marijuana Marches, drawing about 35,000 in 2007 and doubling that to 70,000 last year, before exploding this year. That's no surprise, said Sciolari. "Every year there is a sharp increase in participants, probably because it is a regular event, and people learned to wait for it much in advance, and tell friends, without much need of promotion. The date is fixed year after year, and then you just have to confirm that still it will take place despite all, and people are happy to show up," he said.
One reason for the huge crowds in Rome could be anti-government sentiment and rejection of the conservative values and policies of Prime Minister Silvio Berlusconi. "This wasn't specifically anti-Berlusconi, but against the 'culture' he and his government spread and support," Sciolari noted. "The people mocked and laughed at them rather than taking their positions seriously. Although we are seeing repression and security campaigns in Italy that are passing any limit, pot lovers and patients know that, Berlusconi or not, no government will give anything for free."
"It's always large in Rome," said Joep Oomen, coordinator of ENCOD, the European Coalition for Just and Effective Drug Policies. "It is like it is a yearly event for the whole nation, although some people say most go for the party than for anything else."
---
Rome: giornatamondiale(at)millionmarijuanamarch.info INFO LINE: 0039 3393393589 Mefisto gica(at)inventati.org . 35,000 Marched in '07. Sunday, May 4th.
GMM. Sunday, May 4, 2008: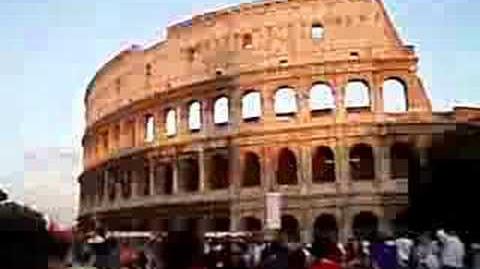 2008 Global Marijuana March in Rome. Youtube link.
---

2008 Global Marijuana March in Rome. May 3, 2008. Youtube link.
April 14, 2007 event: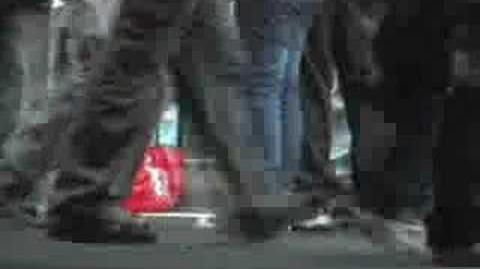 2007 Anti-Prohibition Street Parade in Rome. April 14, 2007. Youtube link. Some great crowd shots interspersed throughout.
GMM. May 6, 2006:
GMM:
More info, links, years
Edit
Cost of drug war
Edit
Appendix Table 1. Total justice expenditures,
fiscal year 1982–2007. USA.
Nominal dollars (not adjusted for inflation), and real dollars (inflation adjusted to 2007 constant dollars).
$228 billion in 2007. Police, corrections, courts.
Year
Nominal dollars
(in millions)
Real dollars
(in millions)
1982
$35,842
$84,129
1987
58,871
114,484
1992
93,777
154,912
1997
129,793
189,463
2002
179,580
227,672
2007
227,563
227,563
Justice Expenditures and Employment, FY 1982-2007 - Statistical Tables. NCJ 236218. By Tracey Kyckelhahn, Ph.D., BJS Statistician. December 2011. U.S. Bureau of Justice Statistics (BJS). See chart.
2010 state prison costs: The Price of Prisons: What Incarceration Costs Taxpayers. By the Vera Institute of Justice. "Total taxpayer cost per inmate. Among the 40 states surveyed, representing more than 1.2 million inmates (of 1.4 million total people incarcerated in all 50 state prison systems), the total per-inmate cost averaged $31,286 and ranged from $14,603 in Kentucky to $60,076 in New York (see Figure 4)."
Cannabis is safer
Edit
See longer article: Cannabis is safer.
Cannabis is safer!
Share links: safer or safer cannabis or safercannabis

USA. 1 in 10 deaths of working-age adults are alcohol-related (disease, overdose, car crashes, falls, violence, and more). 87,798 per year from 2006 to 2010. [137][138][139][140][141]. Since marijuana legalization, highway fatalities in Colorado are at near-historic lows. By The Washington Post. [142][143]. Motor vehicle crashes are the leading cause of death for U.S. teens. Teen drivers have 3 times more fatal crashes per mile driven. Drinking and driving (2700 yearly), and texting while driving (3000 yearly), are the leading causes. Scary video. [144][145][146][147][148]. Graduated driver licensing has been shown to greatly reduce teen accidents. [149][150][151][152]. Oct. 2014 article: In California full marijuana decriminalization went into effect on Jan. 1, 2011, the report finds that "marijuana decriminalization in California has not resulted in harmful consequences for teenagers, such as increased crime, drug overdose, driving under the influence, or school dropout. In fact, California teenagers showed improvements in all risk areas after reform." Maybe we should consider graduated drinking licenses for alcohol modeled on customs in France, Portugal, Spain, Greece, Italy, etc. [153][154].
Quotes in the image to the left (and in the text below) are from the U.S. government's landmark 1999 Institute of Medicine (IOM) report, Marijuana and Medicine: Assessing the Science Base. The full text of the report is available for free online at the above link, and is searchable. The table of contents by chapter is on the sidebar. The report is also available as a free PDF download. Quotes below are followed by their references. Emphasis added.
Page 109: "Indeed, epidemiological data indicate that in the general population marijuana use is not associated with increased mortality. 138"
- 138. Sidney S, Beck JE, Tekawa IS, Quesenberry CP Jr, Friedman GD. 1997a. Marijuana use and mortality. American Journal of Public Health 87:585—590.
Page 107: "When heavy marijuana use accompanies these symptoms [amotivation], the drug is often cited as the cause, but no convincing data demonstrate a causal relationship between marijuana smoking and these behavior characteristics. 23"
- 23. Chait LD, Pierri J. 1992. Effects of smoked marijuana on human performance: A critical review. In: L Murphy and A Bartke, Editors, Marijuana/Cannabinoids: Neurobiology and Neurophysiology. Boca Raton, FL: CRC Press. Pp. 387—424.
Page 119: "There is no conclusive evidence that marijuana causes cancer in humans, including cancers usually related to tobacco use."
---
Obama helping turn around the Reagan-Bush War on Cannabis, mandatory minimums, and mass incarceration:
Categories
Edit