Register and vote for cannabis in 2016
Talk

0
Share
Ad blocker interference detected!
Wikia is a free-to-use site that makes money from advertising. We have a modified experience for viewers using ad blockers

Wikia is not accessible if you've made further modifications. Remove the custom ad blocker rule(s) and the page will load as expected.
Share links: 2016vote or vote or elections. This article was written by Timeshifter.
HuffPost Polls, Charts. 2016 marijuana ballot issues.
Voting info
Edit
U.S. election info. State by state: 2016 voter registration info, deadlines, etc.. Online, by mail, in person. Early voting and absentee voting. [13] [14][15][16][17][18][19][20][21]. And: Are you registered, and where is my polling place. And: Is it too late to register to vote in your state? Check here.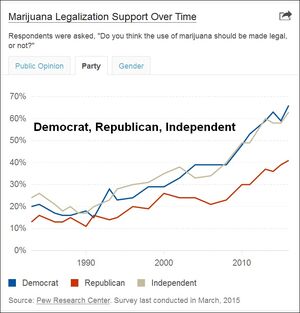 See also: Cannabis polls.
Above timeline is adapted from one of the charts in this article:
In the above timeline note how marijuana's political popularity temporarily declined after Reagan began his propaganda war on cannabis in 1980. See: Reagan's war on cannabis.
Ronald Reagan

, 1980

campaign speech

1:

"Leading medical researchers are coming to the conclusion that marijuana, pot, grass, whatever you want to call it, is probably the most dangerous drug in the United States, and we haven't begun to find out all of the ill effects, but they are permanent ill effects. The loss of memory for example."
See quote at 1 minute 7 seconds into this video clip narrated by Woody Harrelson.
2016 election and marches
Edit
See public opinion polls over time about cannabis.
2016 Global Marijuana March and 420 events. Public opinion wins elections. So get out and march!
USA Today: 11 states least likely to legalize marijuana. Republican states across the nation.
2014 election
Edit
See: Cannabis and 2014 U.S. election.
See also
Edit
Cannabis is safer
Edit
Return to top. See article: Cannabis is safer.
See longer article: Cannabis is safer.

Above quote is from Sanjay Gupta interview of Obama on April 15, 2015. Interview aired on CNN on April 19, 2015. [30][31][32].
Drug-war mass incarceration
Edit
Categories
Edit