Portal:The U.S. Drug War. Republicans lead. Democrats follow. Everybody pays
Talk

0
1,509pages on
this wiki
Share links: gop - republicans - democrats
Some selected international news over time.
For more news see: Cannabis news sources. Share link: News.
U.S. news: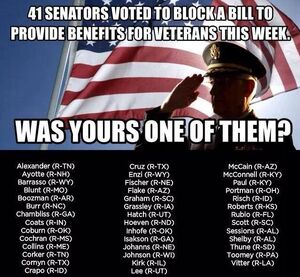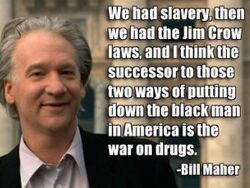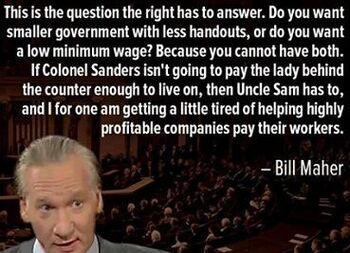 Legalizing Marijuana. Most Popular House Bill. 15 Democrats. Only 1 Republican.
Kelly Thomas verdict: anger grows after police acquitted. See Youtube video of beating. OK to beat drug users to death (Kelly was not high at time of arrest). Drug user exception to excessive force rules against hitting arrestees in the head with fists, batons, flashlights, butt of stun guns, and smashing head against pavement.
Thomas Paine's winter soldier [34]. Abandoned due to Republican-led drug wars.
US Drug War. Cruel and unusual punishment: Many vets discharged from service due to PTSD, etc., and drug and alcohol problems, are refused VA health care. See NPR series [35].
Death rate unusually high for young veterans. LA Times, 20 Dec 2013.
Vets For Medical Cannabis Access. See Vets for Issue 64. Youtube: [36][37].
The GOP War on Christmas. Republicans cut food stamps, but do little to end costly mandatory minimum sentencing, or to roll back the bankrupt Republican-led drug war.
Quote
Oliver Stone (emphasis added):
"The Assassination Records Review Board (1994-1998) found that over 40 witnesses in two locations saw a large avulsive (i.e. penetrating outward) wound in the rear of JFK's skull. This includes highly qualified medical personnel at hospitals in Dallas and Bethesda, as well as FBI agents James Sibert and Frank O'Neill, who were at the autopsy in 1963 and restated it to the board. This wound again indicates an exit wound from a shot to the front. Conclusion: The president was shot from at least two sides, front and back — not one location."
Oliver Stone: JFK conspiracy deniers are in denial. You decide. The U.S. police state has expanded greatly in the last 50 years since JFK's killing.
Support Canadian healthcare and Portuguese harm reduction!
Russia: Pussy Riot. Nadezhda Tolokonnikova's hunger strike.
Be independent, not conservative or liberal!
Democrat Peter Shumlin wins big
in 2012 Vermont governor race

Share link: shumlin
2012 election
Edit
The American states of Colorado and Washington voted to legalize cannabis, and Massachusetts became the eighteenth state to approve cannabis for medical use. See 2012 vote for cannabis. Prohibition, your days are numbered!

Why did U.S. Republicans get their asses handed to them in 2012? Well, besides their idiotic rape comments, maybe it is because their support for "freedom" was a sham. For example; at the time of the election very few Republicans had cosponsored H.R. 6335 (see section on cosponsors). That bill would not have done anything more to legalize marijuana or medical marijuana; it would simply have allowed medical marijuana centers operating legally under state law to continue to do so. It would have amended the Controlled Substances Act so as to exempt real property from civil forfeiture due to medical-marijuana-related conduct that was authorized by State law.
Colorado, Washington Legalize Marijuana! By Phillip Smith, November 7, 2012. More Drug-Related Election Results, Good and Bad. By Phillip Smith.
Some more news
Edit
Richard Posner, Federal Judge, Slams 'Absurd' Laws Against Marijuana, Other Drugs. By Nick Wing. Posted: Sept. 11, 2012. The Huffington Post. From the article:
He recently expressed displeasure with the current direction of the GOP, telling National Public Radio that he has become "less conservative" as the Republican "crowd of lunatics" became increasingly "goofy."
Republicans leading the drug war:
Of course there are some clueless Democrat incumbents too that need the boot:
Fortunately, it looks like some Democrats are pulling their heads out of Republican asses.
"Earlier this year, the Colorado Democrats announced their support for marijuana legalization in their 2012 party platform. On June 9th, the Texas Democrats endorsed marijuana decriminalization. Last weekend, the North Carolina Democratic Party added resolutions supporting medical cannabis and industrial hemp. ... Also worth noting, on June 2nd, the Washington State Democratic Party built upon their earlier endorsement of their state's legalization initiative, I-502, by adding support for full marijuana legalization and medical cannabis as planks in their party platform."
The Reagans and Just Say No
Edit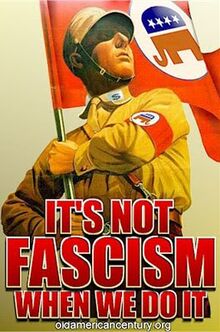 November 1980 election to now. The Reagan Revolution. "Just Say No" and massive U.S. incarceration increase. U.S.-aided, government-sanctioned, drug-war death squads in Colombia, Mexico, Thailand, etc.. Reaganomics 101: Tax the poor and middle class. Spend exorbitant amounts on "freedom" (doublespeak for more prisons and jails). See Wikipedia: Ronald Wilson Reagan, Nancy Reagan, and the War on Drugs. See also: commons:Category:Just Say No.
National Rifle Association and mandatory minimum sentencing
Edit
Some 2012 Republican presidential candidates
Edit
Share links: mitt, romney, mittromney
See: 2012 vote for cannabis. See: Cannabis and the illusion of democracy in the USA.

Mitt Romney on marijuana and medical marijuana

Edit

Mitt Romney will fight marijuana "tooth and nail". Obama is covering his ass. Obama's political carefulness versus Romney's outright hostility.

Romney is a wimp and a fanatic at the same time. He said he would fight marijuana "tooth and nail". He means it. Most people grow out of early religious militancy, and moderate their views. Not Romney. From the article, The Wrath of Grapes, April 21, 2012 by Timothy Egan of the New York Times:


We know from a rare personal admission that Mitt Romney experienced a faint whiff of alcohol, a long, long time ago. "I tasted a beer and tried a cigarette once as a wayward teenager," he said last November [2011], "and never tried it again."

From Mormon.org: Why don't Mormons drink coffee, tea, or alcohol? What is the Mormon Church's law of health and proper diet?
More on Romney's history: Wikipedia: Mitt Romney.
Share link.




Concerning Obama, or any President. Federal prosecutors (U.S attorneys) are appointed by the President and serve 4 year terms. They are responsible for the crackdown on medical cannabis dispensaries in many states. They are independent and the only way to stop them is for the President to fire them. If a President fired a federal prosecutor over medical marijuana, his political opponents could say that he is subverting federal law. A President can suggest that they not prioritize federal resources going after medical cannabis users, and dispensaries following state law. The President can not change federal law though, and so federal prosecutors can do whatever they want.

Video. July 2012.

00:59

Romney will fight medical marijuana tooth and nail




Youtube link.

Quote from the New Hampshire event in late July 2012 (emphasis added): "The idea of medical marijuana is designed to help get marijuana out in the public marketplace and ultimately lead to legalization of marijuana overall. And in my view that's the wrong way to go. ... I'm opposed to it, and if you elect me president you're not going to see legalized marijuana. I'm going to fight it tooth and nail."

July 2012. Full quote  
"I would not legalize marijuana for medicinal purposes, and the reasons are straightforward: As I talk to people in my state and at the federal government level about marijuana and its role in society, they are convinced that the entry way into a drug culture for our young people is marijuana. That marijuana is the starter drug, and that the idea of medical marijuana is designed to help get marijuana out in the public marketplace and ultimately lead to legalization of marijuana overall. And in my view, that's the wrong way to go. And I know that other people have differing views. And if you'd like to get someone who is in favor of marijuana, I know there are some on the Democratic side of the aisle who will be happy to get in your campaign. But I'm opposed to it, and if you elect me president, you're not going to see legalized marijuana. I'm going to fight it tooth and nail."

Video with commentary. May 2012

03:05

Medical Marijuana Irrelevant To Romney




Youtube link.

Video without background laughter

00:52

Mitt Romney on Medical Marijuana




Youtube link.

Romney Really Doesn't Want to Talk About Medical Marijuana. Article and video. By Jon Walker. May 11, 2012. Just Say Now. "While in Colorado, local CBS Denver reporter Shaun Boyd asked Mitt Romney about his position on medical marijuana and the candidate was not happy. Romney became visibly upset about the question. He repeatedly interrupted the reporter and chided her for even asking him about it. ... When Romney did finally get around to answering the question he said that he does think marijuana shouldn't be legal in this country and that he believes it is a gateway drug. ... With 77 percent of the country believing medical marijuana should be allowed Romney is in a tiny minority on this issue. If I were a politician and my position on a particular issue was extremely unpopular, I, too, would hate being asked about it."

Video. October 2007 in New Hampshire

01:06

Gov. Mitt Romney meets a medical marijuana patient--Oct. 6




Youtube link.

"I'm not in favor of medical marijuana being legal". Oct. 6, 2007. In New Hampshire Mitt Romney responds to a man in a wheelchair with muscular dystrophy. Romney refuses to answer the man when asked if he would arrest the man and his doctors. Youtube link. See here for closed-caption version. Don't forget to hit the [CC] button to activate them if you don't have them enabled by default (or click the button for interactive transcripts - it's to the right of the flag button).

More media on Romney and marijuana

Edit

Mitt Romney: Marijuana 'For Recreational Use' Is Bad, But I Also Oppose It For All Purposes. By Nick Wing. October 2, 2012. The Huffington Post. A spokesperson said. "He [Romney] opposes legalizing drugs, including marijuana for medicinal purposes. He will fully enforce the nation's drug laws, and he will oppose any attempts at legalization."

Creepy Romney

Edit

Mitt Romney confronts a cannabis user in the summer of 2011 on the beach in La Jolla, California. See Gothamist article. Romney impersonates police officers in high school and college. Romney leads a pack that forcibly cuts off the long hair of a bullied classmate in high school. See ABC News article, and Washington Post article. See 2007 and 2012 videos from New Hampshire where Romney discusses and opposes medical marijuana.

---
Newt Gingrich calls medical marijuana a joke
Edit
Videos  
00:39

Newt Gingrich - Sounding the Alarm Against Medical Marijuana in Florida - Question 3




Newt Gingrich - Sounding the Alarm Against Medical Marijuana in Florida - Question #3. Youtube link.

00:42

Newt Gingrich - Sounding the Alarm Against Medical Marijuana - Question 2




Newt Gingrich - Sounding the Alarm Against Medical Marijuana - Question #2. Youtube link.
Gingrich's 1995 death penalty bill for importing 2 ounces of cannabis
Edit
See Newt Gingrich. In contrast, see: Lowest enforcement priority for cannabis offenses.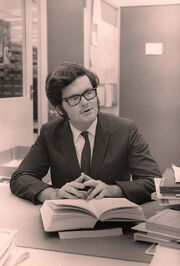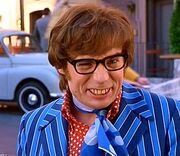 Newt Gingrich (see his Wikipedia article) proposed a bill in 1995 to give the death penalty for importing 2 ounces of cannabis. He introduced it in 1996 as H.R. 4170 (Drug Importer Death Penalty Act of 1996) to the House of Representatives.
Photo to the top right: Newt Gingrich at West Georgia College (which later became the University of West Georgia). According to his Wikipedia article Gingrich was professor there from 1970 to 1978. He left when he was denied tenure. The image source says: "That's not Austin Powers dressed for a job interview... it is Newt Gingrich as a young professor at the University of Georgia." Lol. A comment says: "Short sleeved shirt (?) and a suit : not a good look....."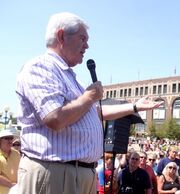 Gary Johnson rips Newt Gingrich about marijuana death penalty idea
Edit
Gary Johnson rips Newt Gingrich about Marijuana Death Penalty Idea.
Video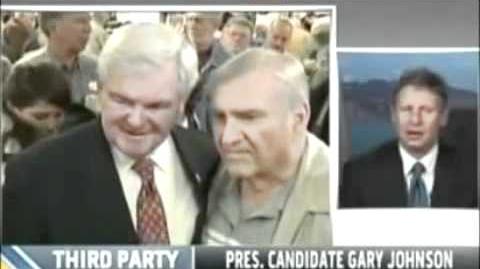 YouTube link.
Gatewood Galbraith on Newt Gingrich
Edit
Gatewood Galbraith. January 23, 1947 – January 4, 2012.

See: Template:Gatewood Galbraith on Newt Gingrich.
Senate votes 60 to 38 for indefinite military detention of Americans
Edit
44 Republicans, 15 Democrats, 1 Independent.
Alexander (R-TN)
Ayotte (R-NH)
Barrasso (R-WY)
Blunt (R-MO)
Boozman (R-AR)
Brown (R-MA)
Burr (R-NC)
Casey (D-PA)
Chambliss (R-GA)
Coats (R-IN)
Coburn (R-OK)
Cochran (R-MS)
Collins (R-ME)
Conrad (D-ND)
Corker (R-TN)
Cornyn (R-TX)
Crapo (R-ID)
DeMint (R-SC)
Enzi (R-WY)
Graham (R-SC)
Grassley (R-IA)
Hagan (D-NC)
Hatch (R-UT)
Heller (R-NV)
Hoeven (R-ND)
Hutchison (R-TX)
Inhofe (R-OK)
Inouye (D-HI)
Isakson (R-GA)
Johanns (R-NE)
Johnson (R-WI)
Kohl (D-WI)
Kyl (R-AZ)
Landrieu (D-LA)
Lee (R-UT)
Levin (D-MI)
Lieberman (ID-CT)
Lugar (R-IN)
Manchin (D-WV)
McCain (R-AZ)
McCaskill (D-MO)
McConnell (R-KY)
Moran (R-KS)
Nelson (D-NE)
Portman (R-OH)
Pryor (D-AR)
Reed (D-RI)
Risch (R-ID)
Roberts (R-KS)
Rubio (R-FL)
Sessions (R-AL)
Shaheen (D-NH)
Shelby (R-AL)
Snowe (R-ME)
Stabenow (D-MI)
Thune (R-SD)
Toomey (R-PA)
Vitter (R-LA)
Whitehouse (D-RI)
Wicker (R-MS)
See also: Newt Gingrich's Drug War, extraordinary rendition, and torture, rape, beatings, searches, disappearances and the Drug War. Also, "Night and Fog", the Nazi Germany program of disappearances, and indefinite military detention. Also, follow the money: Private prisons and private power.

See: Template:Senate votes for indefinite military detention of Americans.
U.S. marijuana history
Edit
Propaganda of incarceration nations
Edit
See
Wikimedia Commons
:
Category:Government propaganda
. Note the "glorious mission" or "glorious war" nature of much propaganda. Like the
Republican-led
Holy War
, the "
War on Drugs
". See
Wikipedia: War on Drugs
. It is really a war on some drug users. This particular glorious war was reinvigorated by the cult leaders,
Ronald
and
Nancy Reagan
. Ronald Reagan is still worshiped like a God by some segments of the Republican Party. "The secret of success is sincerity. Once you can fake that you've got it made." -
Jean Giraudoux
. French diplomat, dramatist, and novelist (1882 - 1944). Share
link
.
Drug war and incarceration rates worldwide
Edit
Share link: compare
See also: Drug war charts and maps.
The purple elephant in the room:
USA. Adult and juvenile inmate stats. Share link.
Obama turning around Reagan-Bush War on Pot, mandatory minimums, and incarceration totals:
Breaking the Taboo
Edit
Home Page (BreakingTheTaboo.info). More info [47]. See TabooBreakers on Twitter. See Global Commission on Drug Policy and Facebook page. Quotes from video clips on the trailer: President Richard Nixon: "total war against public enemy number one". President Ronald Wilson Reagan: "When we say no to drugs it will be clear that we mean absolutely none". President George H.W. Bush: "Some think there won't be room for them in jail. We'll make room". Morgan Freeman: "Since 1971 2.5 trillion dollars have been spent on the War on Drugs". Look who's breaking the taboo: Richard Branson, Kate Winslet, Sam Branson, Morgan Freeman, and many more. See also: MarijuanaMajority.com. Share link. Full version in English is no longer available online. Hey Richard Branson, George Soros, or whoever, please buy it and put it back online!
Trailer preview.

01:50

Breaking the Taboo - Trailer




---

YouTube link.

Full video
(Portuguese and English version)




---

YouTube link for more info and sizes.
Arnold Schwarzenegger
smoking cannabis
Cost of drug war
Edit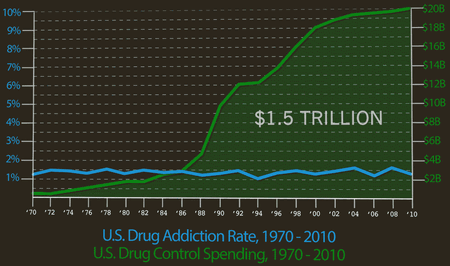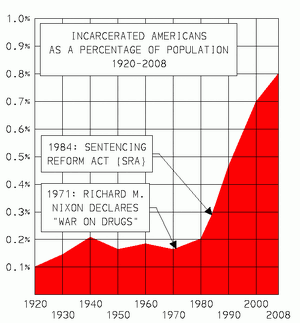 Cannabis is safer
Edit
Categories
Edit