Portal:Cannabis polls
Talk

2
1,498pages on
this wiki
Share link: www.cannabis.wikia.com/polls
Some polls before and after the first Global Marijuana March in May 1999.
See also: inmystride.blogspot.com and Canadian opinion poll results.
Polls. Cannabis is more popular than most politicians
Edit
It is difficult to get the national TV media to cover the Global Marijuana March internationally. But we get tons of media coverage locally in many cities, including TV coverage. Oftentimes even with just a few marchers. It really matters because it normalizes us in many people's minds. "Oh, it is those yearly marijuana marchers again. No big deal." So more and more people get used to the idea, and then go to the next steps of decriminalization, looking the other way, limited legalization of possession, etc.. Full legalization will happen after that. Kind of like how laws against interracial marriage were ignored. Osmosis. See the large crowd shots worldwide. Also, the NORML chart of U.S. poll numbers rising over time. The crowd shots make a big impression, and demonstrate that the events are taking place simultaneously around the world. For more info see Portal: Cannabis polls.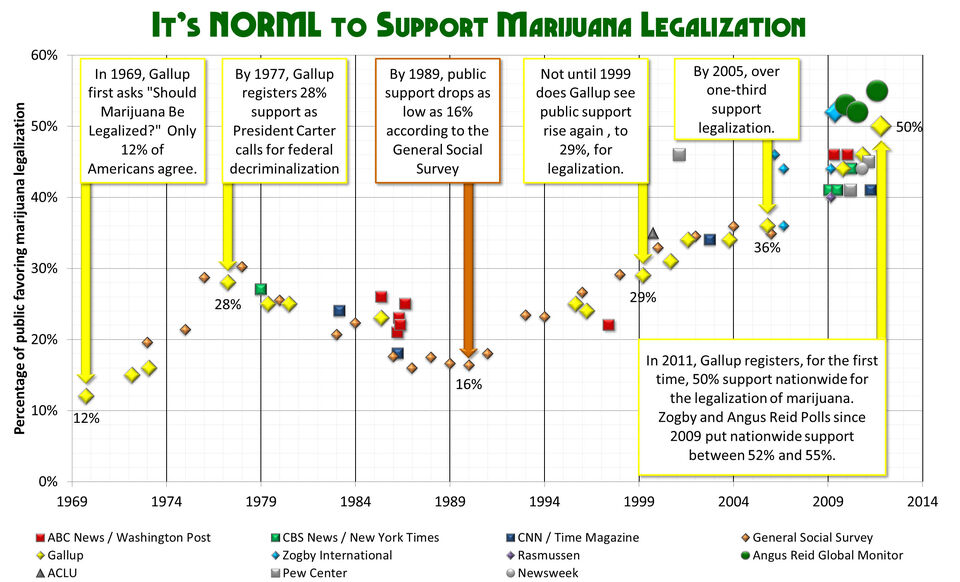 2012 May. U.S. adults
Edit
"Across the country, 52 per cent of Americans support the legalization of marijuana, while 44 per cent oppose it. Majorities of men (60%), Independents (57%) and Democrats (54%) would like to see marijuana legalized. Women (45%), respondents over the age of 55 (48%) and Republicans (43%) are not as supportive of legalization. In four nationwide surveys conducted by Angus Reid Public Opinion on the topic of marijuana legalization since 2009, support has always surpassed the 50 per cent mark in the United States, and opposition has not reached 45 per cent."
"Methodology: From May 29 to May 30, 2012, Angus Reid Public Opinion conducted an online survey among 1,017 American adults who are Springboard America panelists. The margin of error—which measures sampling variability—is +/- 3.1%. The results have been statistically weighted according to the most current education, age, gender and region Census data to ensure a sample representative of the entire adult population of the United States. Discrepancies in or between totals are due to rounding."
2012 May. Likely U.S. voters
Edit
56% Favor Legalizing, Regulating Marijuana - Rasmussen Reports. From the article: "A new national telephone survey of Likely Voters shows that 56% favor legalizing and regulating marijuana in a similar manner to the way alcohol and tobacco cigarettes are regulated. Thirty-six percent (36%) are opposed to such a legalizing and regulating pot."
2010 July. U.S. adults
Edit
Rasmussen poll. Source. 43% say marijuana should be legalized, and 42% disagree. While half of Democrats (51%) support legalizing marijuana, 62% of Republicans are opposed. Voters not affiliated with either major political party lean toward legalization by a 48% to 35% margin. The survey of 1,000 adults was conducted on July 21-22, 2010 by Rasmussen Reports. They were simply asked whether or not they believed marijuana should be legalized.
2009 December. U.S. voters
Edit
A December 2009 poll by Angus Reid Public Opinion finds that 53% of Americans support legalizing marijuana, 43% oppose, and 4% are not sure. See: Most Americans Support Legalizing Marijuana. Poll question was "Do you support or oppose the legalization of each of the following drugs?" Methodology: "Online interviews with 1,004 American voters, conducted on Dec. 3 and Dec. 4, 2009. Margin of error is 3.1 per cent."
2009 April. U.S. adults
Edit
"It's not just a California poll. A WashingtonPost/ABC survey, also released last week, revealed that 46 percent of Americans support legalization of small amounts of marijuana for personal use — that's double the support it had a decade ago." - May 6, 2009. Christian Science Monitor. Article titled "Legalize marijuana? Schwarzenegger says let's debate it." Actual poll: "Washington Post-ABC News Poll". Poll conducted April 21-24, 2009 of a random national sample of adults. The Washington Post. ABC News.
2008 U.S. presidential election voters
Edit
"The Zogby poll, commissioned by the conservative-leaning O'Leary Report, surveyed 3,937 voters and found 52 percent in favor of legalization. Only 37 percent opposed." - May 6, 2009. "Majority Of Americans Want Pot Legalized: Zogby Poll". The Huffington Post. See also: "New Poll: 52% Say Marijuana Should Be Legal, Taxed, Regulated." May 06, 2009. Salem-News.com. "Is marijuana tax the next revenue stream?", by Michael B. Farrell. May 11, 2009. Chicago Sun-Times.
*3,937 voters weighted to match the 2008 presidential outcome -- 54 percent Obama voters and 46 percent McCain supporters.
Voters were asked: "Scarce law enforcement and prison resources, a desire to neutralize drug cartels and the need for new sources of revenue have resurrected the topic of legalizing marijuana. Proponents say it makes sense to tax and regulate the drug while opponents say that legalization would lead marijuana users to use other illegal drugs. Would you favor or oppose the government's effort to legalize marijuana?"
Cannabis is safer
Edit
Share link: www.cannabis.wikia.com/safer
Video. Tips from former tobacco smokers.  



Youtube link.

Cigarette Ingredients - Chemicals in Cigarettes. Tri-County Cessation Center. "The list of 599 additives approved by the US Government for use in the manufacture of cigarettes is something every smoker should see. Submitted by the five major American cigarette companies to the Dept. of Health and Human Services in April of 1994, this list of ingredients had long been kept a secret. ... While these ingredients are approved as additives for foods, they were not tested by burning them, and it is the burning of many of these substances which changes their properties, often for the worse. Over 4000 chemical compounds are created by burning a cigarette – 69 of those chemicals are known to cause cancer." See: Wikipedia: Tobacco harm reduction.

"In October 2008 the American Association of Public Health Physicians (AAPHP) became the first medical organization in the U.S. to officially endorse tobacco harm reduction as a viable strategy to reduce the death toll related to cigarette smoking." [8] [9] Joel Nitzkin: "So if we can figure that the nicotine in the e-cigarettes is basically a generic version of the same nicotine that is in prescription products, we have every reason to believe that the hazard posed by e-cigarettes would be much lower than one percent, probably lower than one tenth of one percent of the hazard posed by regular cigarettes." [10] [11]

On the right side in clockwise order: Carl Sagan, Michael Phelps, Stephen King, Steve Jobs, Montel Williams.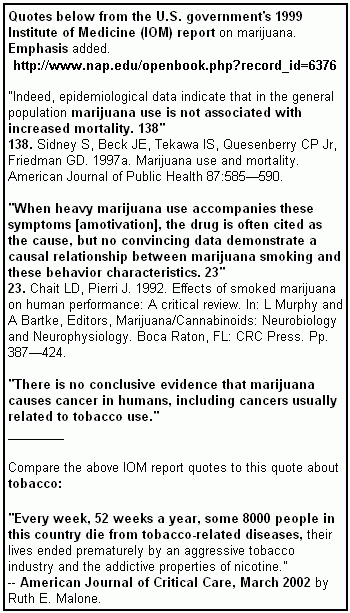 Quotes in the image to the left (and in the text below) are from the U.S. government's landmark 1999 Institute of Medicine (IOM) report, Marijuana and Medicine: Assessing the Science Base. The full text of the report is available for free online at the above link, and is searchable. The table of contents by chapter is on the right side. Quotes below are followed by their references. Emphasis added.
Page 109: "Indeed, epidemiological data indicate that in the general population marijuana use is not associated with increased mortality. 138"
- 138. Sidney S, Beck JE, Tekawa IS, Quesenberry CP Jr, Friedman GD. 1997a. Marijuana use and mortality. American Journal of Public Health 87:585—590.
Page 107: "When heavy marijuana use accompanies these symptoms [amotivation], the drug is often cited as the cause, but no convincing data demonstrate a causal relationship between marijuana smoking and these behavior characteristics. 23"
- 23. Chait LD, Pierri J. 1992. Effects of smoked marijuana on human performance: A critical review. In: L Murphy and A Bartke, Editors, Marijuana/Cannabinoids: Neurobiology and Neurophysiology. Boca Raton, FL: CRC Press. Pp. 387—424.
Page 119: "There is no conclusive evidence that marijuana causes cancer in humans, including cancers usually related to tobacco use."
---
Compare the IOM report quotes to this quote about tobacco:
"Every week, 52 weeks a year, some 8000 people in this country die from tobacco-related diseases, their lives ended prematurely by an aggressive tobacco industry and the addictive properties of nicotine." - American Journal of Critical Care, March 2002. Nursing, our public deaths, and the tobacco industry. By Ruth E. Malone.
Drug war and incarceration rates worldwide
Edit
Share link: www.cannabis.wikia.com/compare
See also: Drug war charts and maps.
The purple elephant in the room:
| | |
| --- | --- |
| USA: Over 7.2 million persons on probation or parole, or incarcerated in jail or prison, at yearend 2006. About 3.2% of the U.S. adult population, or 1 in every 31 adults. Larger chart with detailed source info: [1]. Latest data: [2]. See template. | Timeline of U.S. incarceration in prisons and jails as a percentage of Americans of all ages. See template. Image source and data. |
USA. Adult and juvenile inmate stats. Share link.
Breaking the Taboo
Edit
Home Page (BreakingTheTaboo.info). More info [12]. See TabooBreakers on Twitter. See Global Commission on Drug Policy and Facebook page. Quotes from video clips on the trailer: President Richard Nixon: "total war against public enemy number one". President Ronald Wilson Reagan: "When we say no to drugs it will be clear that we mean absolutely none". President George H.W. Bush: "Some think there won't be room for them in jail. We'll make room". Morgan Freeman: "Since 1971 2.5 trillion dollars have been spent on the War on Drugs". Look who's breaking the taboo: Richard Branson, Kate Winslet, Sam Branson, Morgan Freeman, and many more. See also: MarijuanaMajority.com. Share link. Full version in English is no longer available online. Hey Richard Branson, George Soros, Peter Lewis, or whoever, please buy it and put it back online!
Full video
(Portuguese and English version)


Youtube link for more info and sizes.

Arnold Schwarzenegger
smoking cannabis
Cost of drug war
Edit
Categories
Edit