Newt Gingrich's deadly Drug War
Talk

0
1,498pages on
this wiki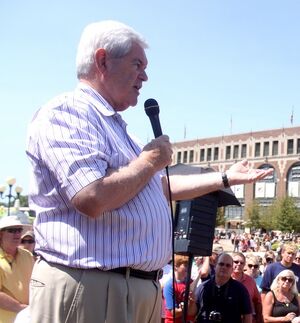 Share link: www.cannabis.wikia.com/newt
1995 death penalty bill for importing 2 ounces of cannabis
Edit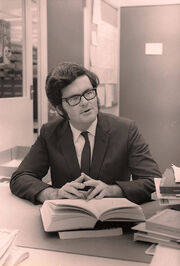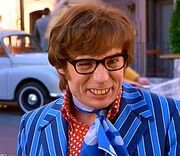 Newt Gingrich (see his Wikipedia article) proposed a bill in 1995 to give the death penalty for importing 2 ounces of cannabis. He introduced it in 1996 as H.R. 4170 (Drug Importer Death Penalty Act of 1996) to the House of Representatives.
Photo to the top right: Newt Gingrich at West Georgia College (which later became the University of West Georgia). According to his Wikipedia article Gingrich was professor there from 1970 to 1978. He left when he was denied tenure. The image source says: "That's not Austin Powers dressed for a job interview... it is Newt Gingrich as a young professor at the University of Georgia." Lol. A comment says: "Short sleeved shirt (?) and a suit : not a good look....."
(See: Template:Newt Gingrich 1995 death penalty bill for 2 ounces of cannabis.)
Medical marijuana and the drug war
Edit
Increase penalties for illegal drugs. (Nov 1998).
3-strike laws are constitutional; enforce courts compliance. (Oct 2005).
More prisons, more enforcement, effective death penalty. (Sep 1994).
Gingrich Calls Medical Marijuana A 'Joke'
Edit
Videos  
| | |
| --- | --- |
| Newt Gingrich - Sounding the Alarm Against Medical Marijuana in Florida - Question #3. Youtube link. | Newt Gingrich - Sounding the Alarm Against Medical Marijuana - Question #2. Youtube link. |
See also: Drug war charts.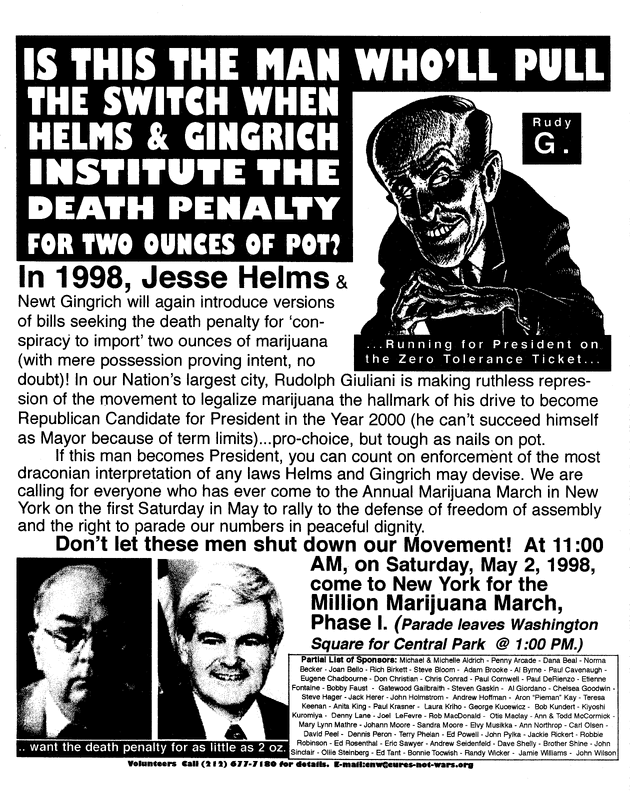 Gary Johnson rips Newt Gingrich about marijuana death penalty idea
Edit
Gary Johnson rips Newt Gingrich about Marijuana Death Penalty Idea.
Youtube link.
Gatewood Galbraith on Newt Gingrich
Edit
Gatewood Galbraith. January 23, 1947 – January 4, 2012.

See: Template:Gatewood Galbraith on Newt Gingrich.
See also
Edit
Drug war and incarceration rates worldwide
Edit
Share link: www.cannabis.wikia.com/compare
See also: Drug war charts and maps.
The purple elephant in the room:
| | |
| --- | --- |
| USA: Over 7.2 million persons on probation or parole, or incarcerated in jail or prison, at yearend 2006. About 3.2% of the U.S. adult population, or 1 in every 31 adults. Larger chart with detailed source info: [6]. Latest data: [7]. See template. | Timeline of U.S. incarceration in prisons and jails as a percentage of Americans of all ages. See template. Image source and data. |
USA. Adult and juvenile inmate stats. Share link.
Breaking the Taboo
Edit
Home Page (BreakingTheTaboo.info). More info [13]. See TabooBreakers on Twitter. See Global Commission on Drug Policy and Facebook page. Quotes from video clips on the trailer: President Richard Nixon: "total war against public enemy number one". President Ronald Wilson Reagan: "When we say no to drugs it will be clear that we mean absolutely none". President George H.W. Bush: "Some think there won't be room for them in jail. We'll make room". Morgan Freeman: "Since 1971 2.5 trillion dollars have been spent on the War on Drugs". Look who's breaking the taboo: Richard Branson, Kate Winslet, Sam Branson, Morgan Freeman, and many more. See also: MarijuanaMajority.com. Share link. Full version in English is no longer available online. Hey Richard Branson, George Soros, Peter Lewis, or whoever, please buy it and put it back online!
Full video
(Portuguese and English version)


Youtube link for more info and sizes.

Arnold Schwarzenegger
smoking cannabis
Cost of drug war
Edit
Cannabis is safer
Edit
Share link: www.cannabis.wikia.com/safer
Video. Tips from former tobacco smokers.  



Youtube link.

Cigarette Ingredients - Chemicals in Cigarettes. Tri-County Cessation Center. "The list of 599 additives approved by the US Government for use in the manufacture of cigarettes is something every smoker should see. Submitted by the five major American cigarette companies to the Dept. of Health and Human Services in April of 1994, this list of ingredients had long been kept a secret. ... While these ingredients are approved as additives for foods, they were not tested by burning them, and it is the burning of many of these substances which changes their properties, often for the worse. Over 4000 chemical compounds are created by burning a cigarette – 69 of those chemicals are known to cause cancer." See: Wikipedia: Tobacco harm reduction.

"In October 2008 the American Association of Public Health Physicians (AAPHP) became the first medical organization in the U.S. to officially endorse tobacco harm reduction as a viable strategy to reduce the death toll related to cigarette smoking." [14] [15] Joel Nitzkin: "So if we can figure that the nicotine in the e-cigarettes is basically a generic version of the same nicotine that is in prescription products, we have every reason to believe that the hazard posed by e-cigarettes would be much lower than one percent, probably lower than one tenth of one percent of the hazard posed by regular cigarettes." [16] [17]

On the right side in clockwise order: Carl Sagan, Michael Phelps, Stephen King, Steve Jobs, Montel Williams.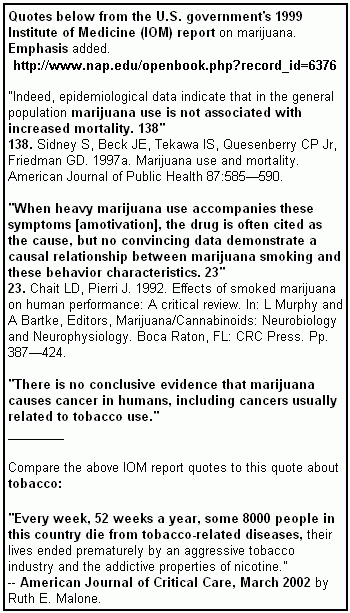 Quotes in the image to the left (and in the text below) are from the U.S. government's landmark 1999 Institute of Medicine (IOM) report, Marijuana and Medicine: Assessing the Science Base. The full text of the report is available for free online at the above link, and is searchable. The table of contents by chapter is on the right side. Quotes below are followed by their references. Emphasis added.
Page 109: "Indeed, epidemiological data indicate that in the general population marijuana use is not associated with increased mortality. 138"
- 138. Sidney S, Beck JE, Tekawa IS, Quesenberry CP Jr, Friedman GD. 1997a. Marijuana use and mortality. American Journal of Public Health 87:585—590.
Page 107: "When heavy marijuana use accompanies these symptoms [amotivation], the drug is often cited as the cause, but no convincing data demonstrate a causal relationship between marijuana smoking and these behavior characteristics. 23"
- 23. Chait LD, Pierri J. 1992. Effects of smoked marijuana on human performance: A critical review. In: L Murphy and A Bartke, Editors, Marijuana/Cannabinoids: Neurobiology and Neurophysiology. Boca Raton, FL: CRC Press. Pp. 387—424.
Page 119: "There is no conclusive evidence that marijuana causes cancer in humans, including cancers usually related to tobacco use."
---
Compare the IOM report quotes to this quote about tobacco:
"Every week, 52 weeks a year, some 8000 people in this country die from tobacco-related diseases, their lives ended prematurely by an aggressive tobacco industry and the addictive properties of nicotine." - American Journal of Critical Care, March 2002. Nursing, our public deaths, and the tobacco industry. By Ruth E. Malone.
Categories
Edit