New York City, New York, USA
Talk

1
1,498pages on
this wiki
Share link: www.cannabis.wikia.com/nyc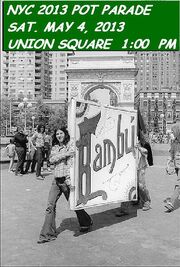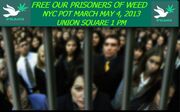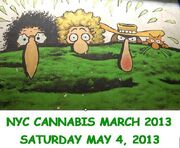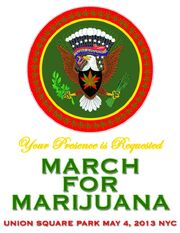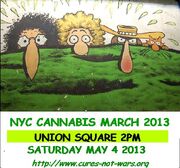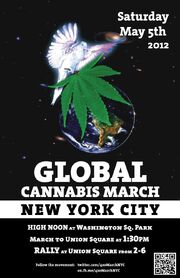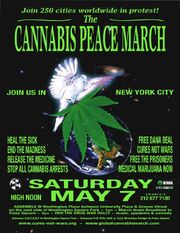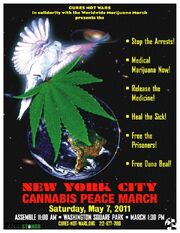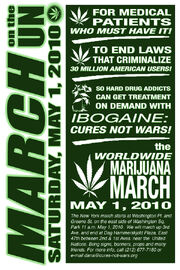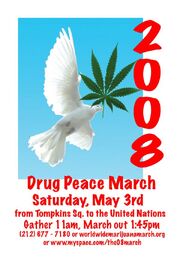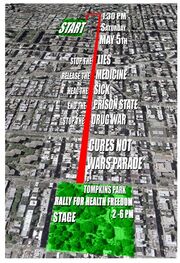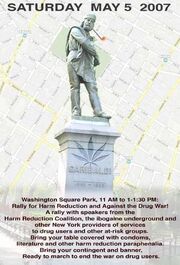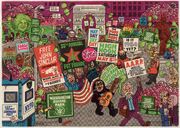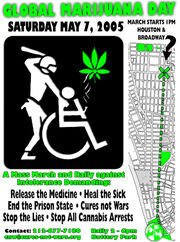 Social media, Facebook
Edit
Facebook:
Local links
Edit
City info
Edit
Global Marijuana March
Edit
GMM (years signed up). This city participated or signed up one year (or more) for the Global Marijuana March (GMM), or the Million Marijuana March (MMM). 220 cities from 42 nations signed up for May 4, 2013 or thereabouts.175 cities from 33 nations signed up for May 5, 2012 or thereabouts. See also: 4/20 event lists. 809 different cities have signed up from 72 different nations since 1999.
 Right-click any region for its city list.

See 2013 Global Marijuana March map, and GMM signup.
GMM:
Facebook:
See Global Marijuana March 2012 map, and GMM signup.
GMM: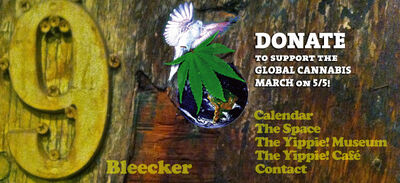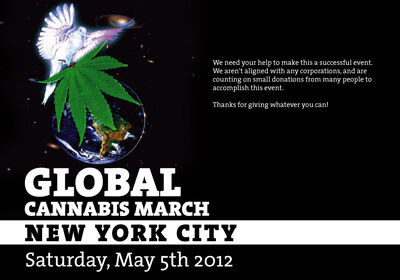 GMM:
Scoopy's Notebook. The Villager. Volume 80, Number 46. April 21 - 27, 2011. See section titled "A burning issue."
New York City: Dana 212-677-7180 dana(at)phantom.com http://www.worldwidemarijuanamarch.org Cures not Wars, 9 Bleecker St, NYC 10012. 11 am Mayday Washington Square Park; parade route and destination TBA.
GMM, May 1:
New York City: Dana 212-677-7180 dana(at)phantom.com Cures not Wars, 9 Bleecker St, NYC 10012
Myspace:
GMM videos:
New York City: Dana 212-677-7180 dana(at)phantom.com http://www.myspace.com/the08march Cures not Wars, 9 Bleecker St, NYC 10012
Global Marijuana March. New York City. May 3, 2008:
Video

help and searches. 
Share link: www.cannabis.wikia.com/video
Youtube: Global Marijuana March's Channel.
Featured

cities

with

videos

.  
Some featured city pages with videos: ~ Amsterdam, Netherlands. Athens, Greece. Belem, Brazil. Berlin, Germany. Budapest, Hungary. Buenos Aires, Argentina. Cleveland, Ohio, USA. Florianopolis, Brazil. Madrid, Spain. Medellin, Colombia. Mexico City, Mexico. Montreal, Quebec, Canada. Moscow, Russia. New York City, New York, USA. Nimbin, Australia. Oslo, Norway. Paris, France. Portland, Oregon, USA. Prague, Czech Republic. Recife, Brazil. Rio de Janeiro, Brazil. Rome, Italy. Santiago, Chile. Seattle, Washington, USA. Toronto, Canada. Warsaw, Poland. ...
Use these search terms to search the web too.
Youtube and Google Video searches for marijuana marches (add city name):
Click (or right-click) the preceding search links. Then add a city name, and search again. Remove or add search terms to find other events, and other cannabis-related videos. Use these search terms to search the web too.
See also:
The "HQ" (high quality) button, or the higher resolutions, linked under some of the videos increases both the video and audio quality of the videos.
On embedded videos you can click, or right-click, the Youtube links to go to the Youtube page to watch the larger versions.
Global Marijuana March 2008
in New York City.
Youtube link.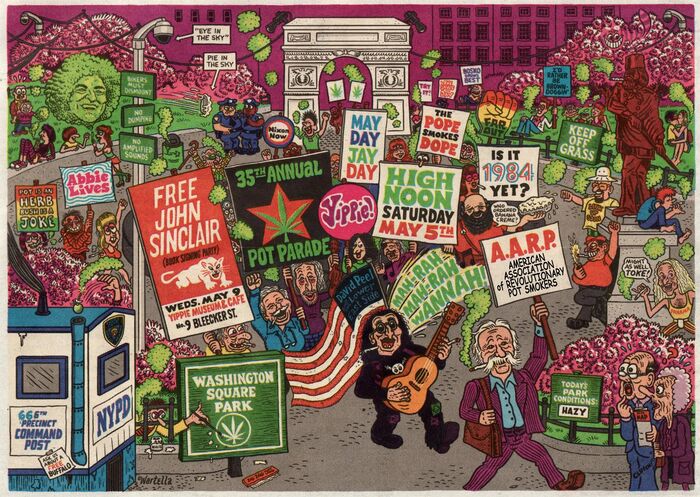 Interview
with
Dana Beal.
Preview of
Global Marijuana March 2007.
Youtube link
.
GMM:
Report  
Report (from old GMM site):
Beautiful weather, Beautiful people, Beautiful march. Made some beautiful new friends and had a beautiful day. It started off at 11:00am set in Washington Square Park, for the 1st time in years, with an ibogaine forum and march history speech by Global/Million Marijuana March founder and veteran activist Dana Beal (www.cures-no-wars.org) while we handed out flyers to the people in the park as they came up to see what was going on so they would be up to speed with what Dana and the other speakers were talking about. Most of the people listening, aside from the 100 or so people starting to float in for the march, were tourists and really getting into the speeches and many had questions which were cheerfully answered by those who had answers. A few brave souls lit up some joints and the cops were pretty cool, well actually they were really cool throughout the entire day because they hung around and were glad to talk to anyone who wanted to talk to them about their opinion of the war on cannabis. The opinion was the same from any cop I talked to "Will you people please get this put on the ballot and I'll vote for it because I have better things to do on the 1st week of May every year then babysit you people". Very nice.
I met a cop that really didn't understand that street pot was the same thing as what is growing in the ground just dry. He was under the impression it was similar to how coca becomes cocaine since the have to wear hazard gear to move it and he's never seen it because it's always wrapped up in packages or bundles or something. He, like every law enforcement officer I and others spoke to, is very aware that they need to go home, type in www.leap.cc and start reading since every cop I spoke to agreed that cannabis enforcement is a total waste of time & money. Some mentioned much concern over the impending scourge of crystal meth that is on the way and that they wouldn't mind the weed resources to get a jump on it. We let them know that Leap would let them know how to make their concerns heard. I have to say I had a great time going up to "The Man" and saying "Hey, I remember you from last year. How've you been? Thanks for coming out and watching out for us" They returned the greeting and we talked, well except for those in plainclothes who preferred to stay "anonymous". I always say that the GMM is the one place on Earth where everyone is completely equal and all get along as one. Everyone seems to take a day off from hating each other and that is a beeeeeautiful thing and very spiritual if you are aware of the vibe, which I did my best to make sure those I spoke to knew to be part of the vibe. A few more speakers spoke including the Pieman ( www.pieman.org ) who is always great to talk to because, even though he has a tough time of it getting around anymore, he is absolutely 100% pure 1960's activism and there's so much to learn from him. Dana explained to us that the Mayor through his lawyers had to change our finish from Battery Park which is a good sized park on the southern most tip of NYC by the Statue of Liberty to City Hall Park in front of City Hall because blasting (how American & ironic?) and our safety. Well that sounds like a step in the right direction, Washington Square Park and City Hall Park all in the same day, good start.
12 noon we walk a few blocks to the starting point at Houston & Bleecker Streets. There was a free speech/open megaphone for an hour, with all its usual screaming and animation, while banners, flyers & signs were being handed out.
1pm we are on our way. Another part of his march I really find amusing is the fact that this GMM is the only march, parade or the like that people stop off at the various food stands, carts and pizza & burger joints along way, grab something to munch on and catch up to the march while usually being stopped by people on the street with questions or tourists who want a picture holding one of our signs or while walking in the march looking like a participant. I gave away a sign to a pair of young adult European couples who wanted a souvenir to take home. That should make for some fun going through customs. The people we passed all cheered us on which made us all think "Tell me why is weed illegal again?, Everyone seems to like it".
We get to City Hall Park which is quite small and are told that we only have a noise permit so we have to give up our signs and we could only be on the sidewalk outside of the park and to see the speakers and entertainment we had to sit down in a roped off area of sidewalk. Well I gotta say my ass immediately began to hurt, not because of the concrete either. We were literally kicked to the curb by the city. Poor Dana had to field like two or three fuktillion "What da fuk is going on?" questions from the marchers. Everyone made the best of it and we headed into the park for a bench in the park where we could hear the speakers but not have to be crowded on the sidewalk in the direct sun as did many people which ended up making more room for those out in front of the "stage". From what I've seen from the last couple years of attending various NY marches/rallies and such, sadly if you've heard the speeches at one NY rally you've heard them all. I agree that the history of pot oppression is an important part of promoting activism, especially for those who are just starting out and are hungry for info and passion to fuel their own fight, but I really feel there is almost no focus on now, , tomorrow and how we're going to win this fight. But that's a story for another time. I was blessed with being veeeeery brownied-up, since I knew smoking would be a game I didn't want to play this year, and had a wonderful glow the whole day with out having to hide like a criminal to burn a joint so the joints I brought along just in case somehow made it into the hands of some of my new friends without weed. Sharing is Caring, remember? Being brownie boy protector of cannabis freedom, I pretty much rambled the ears off of anyone who would listen and pretty much was unable to shut up for hours. Around 4pm or so we headed out into the rest of the city, walked around aimlessly, hanging out at street corners eating a variety of delicious NY street food, watching people go by, especially the summer clad females of all varieties, while doing our best to attract attention to our pro-cannabis t-shirts the whole way until exhaustion set in, caught a cab and headed to the train home. I would love to see enough people come out that we could all light up and the law would be rendered helpless but the people who did come out were great and very into either sharing information or asking questions. I do believe I love them all and am looking forward to being able to enjoy a bud with everyone someday soon in a NY March. See you all at the NY Harvest Fest in October.
GMM:
A group rallied in Lower Manhattan Saturday to call for the legalization of marijuana for medical purposes. "Cures not Wars" is urging lawmakers to allow hemp to be used with a prescription. "If alcohol is socially acceptable, then I see no reason why marijuana can't be," said Audrey Silk, a Libertarian candidate for mayor, who joined the demonstration. "And medical marijuana to me is a total no-brainer. There is no reason to deny people who say it works fot them the ability to use it." The group is also touting the new drug ibogaine, which it says helps cure addiction. "Basically with every other drug you take for drug addiction, like methadone, when the methadone wears off, you're back in withdrawal," said Dana Beal, another protestor. "When the ibogaine wears off there is no withdrawal." Similar demonstrations took place in nearly 200 cities around the world, including Prague, Kiev and Tel Aviv.
1998 Million Marijuana March (MMM) on May 2. This was before it went global in 1999.
Video below has clip from the Howard Stern Show on November 19, 1998 - Goofing on the 1998 Million Marijuana March that occurred on May 2, 1998 in New York City. Dana Beal calls in to the show at 9 minutes 9 seconds in. Howard, Dana and the crew also discuss the upcoming 1999 MMM on May 1, 1999, and that it will occur in various cities worldwide. Youtube link.
1998 Million Marijuana March flyer.
Largest version of flyer
.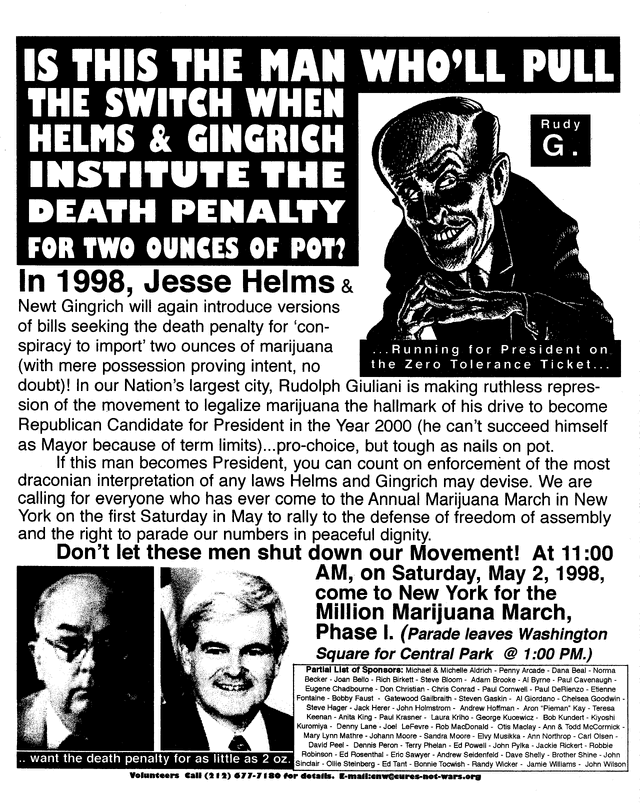 July 9, Schaefer Music Festival, Central Park, NYC: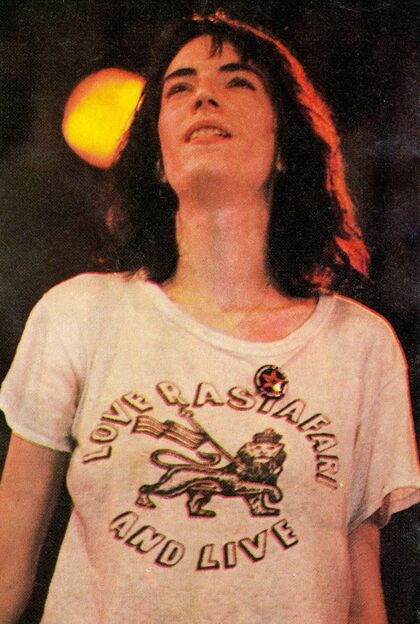 May 15: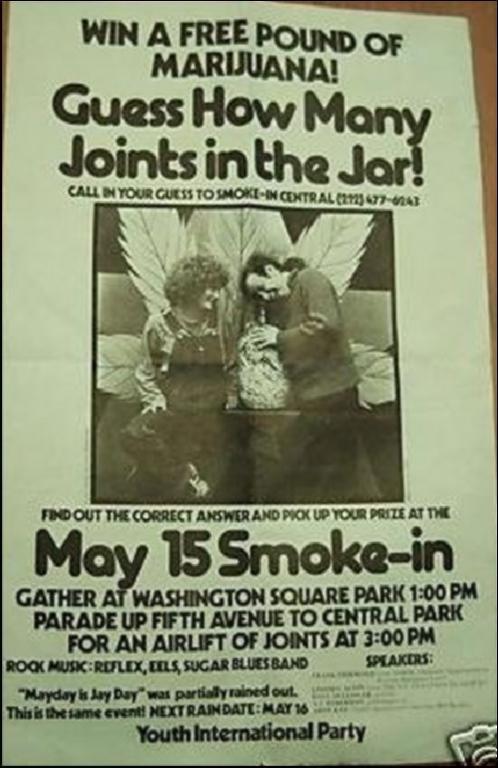 May 1: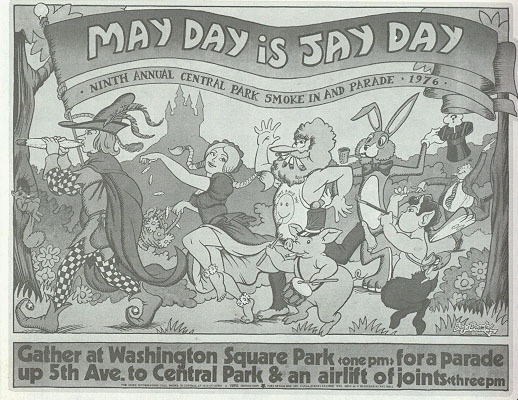 Saturday, May 1, 1976. New York City. "May Day is Jay Day. Ninth annual Central Park Smoke In and Parade. 1976." Image info.
The Yippie /Zippie Website!. Quote from article (emphasis added):
"The first Smoke In was held in February 1967 in upstate New York by Michael Aldridge but it did not receive much press attention. In June 1967 Dana Beal and the New York Provos held the second smoke-in in Tompkins Square Park. Due to several arrests this demonstration received considerable press. Beal went underground in January 1968 but the Smoke Ins continued just as they do today as evidenced by the above photo of 10,000 Smoke Inners in Boulder on April 20, 2008."
More info, links, years
Edit
More info, tips, links, and    


media

of all kinds.
Note: Update any section of this page. Feel free to add sections for years, events, legal initiatives, history, people, organizations, gatherings, and so on. Add links and info of all kinds. Some sources: Category:Cannabis-related events, GMM yearly city lists, GMM links, wikipedia:Category:Cannabis activism, cannabis culture, etc.. Also, search the web (add city to search) for cannabis activism, groups, 420 events, harvest festival events, ballot initiatives, court cases, etc.. Add links for reports, articles, photos, graphics (posters, banners, flyers), videos, press, media coverage, etc.. Upload photos and graphics. You can help: Category:Work in progress. See also: Video help and search links.
Toggle between wikitext and    
visual editing. 
Some editors may prefer the wikitext source editor (Wikipedia-style editing). Click the source tab at the top right of the editing window. Some browsers work better with source editing, too. For visual editing click the visual tab.
Rich-text editing (RTE) or "visual editing" can sometimes be problematic, or slow. For example; see Portal: Rich-text editor problems when using Firefox. Visual editing is sometimes called WYSIWYG editing.
To make source editing the default, and to turn off visual editing altogether, logged-in users can change their preference settings. Go to the editing tab in your preferences (Special:Preferences). Uncheck "Enable visual editor," and then save the settings. To turn it back on check the box, and save the settings.
---
See also: Latest template for city articles. Copy the parts you need.
Incarceration rates
Edit
Share link: www.cannabis.wikia.com/compare
See also: Drug war charts and maps.
The purple elephant in the room:
Cost of drug war
Edit
Breaking the Taboo
Edit
Share link: www.cannabis.wikia.com/taboo
Home Page (BreakingTheTaboo.info). More info [5]. See TabooBreakers on Twitter. See Global Commission on Drug Policy and Facebook page. Quotes from video clips on the trailer: President Richard Nixon: "total war against public enemy number one". President Ronald Wilson Reagan: "When we say no to drugs it will be clear that we mean absolutely none". President George H.W. Bush: "Some think there won't be room for them in jail. We'll make room". Morgan Freeman: "Since 1971 2.5 trillion dollars have been spent on the War on Drugs". Look who's breaking the taboo: Richard Branson, Kate Winslet, Sam Branson, Morgan Freeman, and many more. See also: MarijuanaMajority.com. Share link. Full version in English is no longer available online. Hey Richard Branson, George Soros, Peter Lewis, or whoever, please buy it and put it back online!
Full video
(Portuguese and English version)


Youtube link for more info and sizes.

Arnold Schwarzenegger
smoking cannabis
Quentin Tarantino
Edit
[1][2][3][4]. Cory Booker, mayor of Newark, New Jersey: "I'm going to battle on this," the mayor says. "We're going to start doing it the gentlemanly way. And then we're going to do the civil disobedience way. Because this is absurd. I'm talking about marches. I'm talking about sit-ins at the state capitol. I'm talking about whatever it takes." Quote source.

Quentin Tarantino. Video:
War on Drugs is Like Slavery.
Cannabis is safer
Edit
Share link: www.cannabis.wikia.com/safer
Video. Tips from former tobacco smokers.  



Youtube link.

Cigarette Ingredients - Chemicals in Cigarettes. Tri-County Cessation Center. "The list of 599 additives approved by the US Government for use in the manufacture of cigarettes is something every smoker should see. Submitted by the five major American cigarette companies to the Dept. of Health and Human Services in April of 1994, this list of ingredients had long been kept a secret. ... While these ingredients are approved as additives for foods, they were not tested by burning them, and it is the burning of many of these substances which changes their properties, often for the worse. Over 4000 chemical compounds are created by burning a cigarette – 69 of those chemicals are known to cause cancer." See: Wikipedia: Tobacco harm reduction.

"In October 2008 the American Association of Public Health Physicians (AAPHP) became the first medical organization in the U.S. to officially endorse tobacco harm reduction as a viable strategy to reduce the death toll related to cigarette smoking." [7] [8] Joel Nitzkin: "So if we can figure that the nicotine in the e-cigarettes is basically a generic version of the same nicotine that is in prescription products, we have every reason to believe that the hazard posed by e-cigarettes would be much lower than one percent, probably lower than one tenth of one percent of the hazard posed by regular cigarettes." [9] [10]

On the right side in clockwise order: Carl Sagan, Michael Phelps, Stephen King, Steve Jobs, Montel Williams.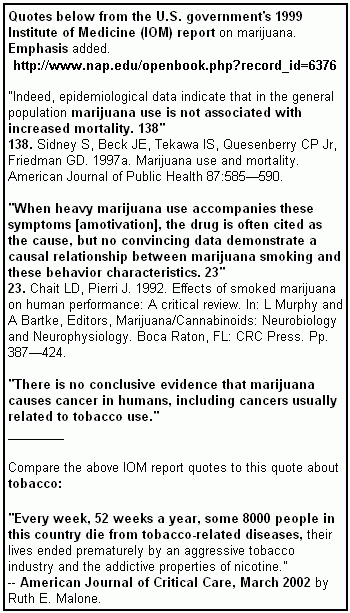 Quotes in the image to the left (and in the text below) are from the U.S. government's landmark 1999 Institute of Medicine (IOM) report, Marijuana and Medicine: Assessing the Science Base. The full text of the report is available for free online at the above link, and is searchable. The table of contents by chapter is on the right side. Quotes below are followed by their references. Emphasis added.
Page 109: "Indeed, epidemiological data indicate that in the general population marijuana use is not associated with increased mortality. 138"
- 138. Sidney S, Beck JE, Tekawa IS, Quesenberry CP Jr, Friedman GD. 1997a. Marijuana use and mortality. American Journal of Public Health 87:585—590.
Page 107: "When heavy marijuana use accompanies these symptoms [amotivation], the drug is often cited as the cause, but no convincing data demonstrate a causal relationship between marijuana smoking and these behavior characteristics. 23"
- 23. Chait LD, Pierri J. 1992. Effects of smoked marijuana on human performance: A critical review. In: L Murphy and A Bartke, Editors, Marijuana/Cannabinoids: Neurobiology and Neurophysiology. Boca Raton, FL: CRC Press. Pp. 387—424.
Page 119: "There is no conclusive evidence that marijuana causes cancer in humans, including cancers usually related to tobacco use."
---
Compare the IOM report quotes to this quote about tobacco:
"Every week, 52 weeks a year, some 8000 people in this country die from tobacco-related diseases, their lives ended prematurely by an aggressive tobacco industry and the addictive properties of nicotine." - American Journal of Critical Care, March 2002. Nursing, our public deaths, and the tobacco industry. By Ruth E. Malone.
Categories
Edit