Kush refers to a subset of strains of the Indica species of Cannabis. The origins of Kush are from a landrace plant in Afghanistan and Northern India, with the name coming from the Hundu Kush valleys. "Hindu Kush" strains of cannabis were brought to the United States in the mid to late 1970s and continue to be available to the present day.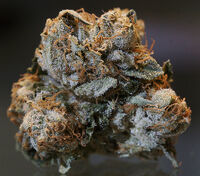 Kush strains were among those cultivated by the British firm GW Pharmaceuticals for its legally licensed commercial trial of medicinal cannabis.
Ad blocker interference detected!
Wikia is a free-to-use site that makes money from advertising. We have a modified experience for viewers using ad blockers

Wikia is not accessible if you've made further modifications. Remove the custom ad blocker rule(s) and the page will load as expected.