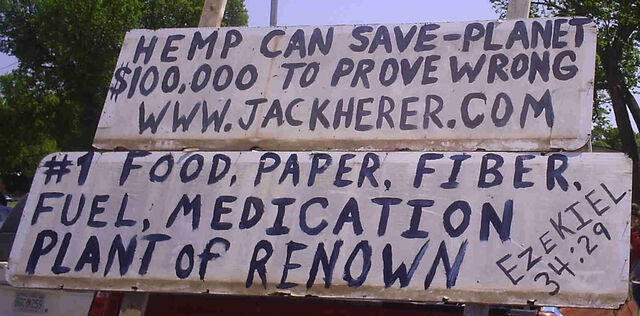 A sign we made for the 2008 GMM in alva Oklahoma.
Alva Oklahoma, May 2008 Alva has a population of about 5,000 We made Alva History in 2006 for the first ever protest against marijuana laws in Alva Oklahoma.In 2007 they tried everything to keep us from protesting by telling us we couldn't be on the courthouse lawn then telling us we couldn't be on the side walk and eventually giving us a County Commissioners certified letter that said we did not get permission for the use of the courthouse lawn. So in 2008 I took my request to protest to the County Commissioners.The DA recommended they table the agenda for another meeting so they could look at all there options and make sure my First Amendment Rights would not be violated by there decision.I handed all three Commissioners a handful of information on cannabis,hemp and marijuana. At the next meeting 2 out of 3 Commissioners approved the protest.A big win for us in 2008.We had no trouble with the local law enforcement and no trouble with citizens of Alva.
Appears on these pages

of
Return to top. This city participated or signed up one year (or more) for the Global Marijuana...
File history
Click on a date/time to view the file as it appeared at that time.
Ad blocker interference detected!
Wikia is a free-to-use site that makes money from advertising. We have a modified experience for viewers using ad blockers

Wikia is not accessible if you've made further modifications. Remove the custom ad blocker rule(s) and the page will load as expected.