Some news.

-

2017 global marches.

2016.

-

Cannabis is safer.
See: More news. Archive. News sources. Facebook: Global Marijuana March [2][3][4]. Hashtags: [5][6][7]. Twitter: [8][9][10].
---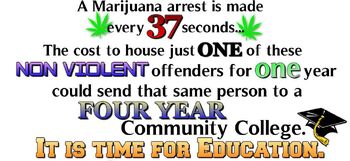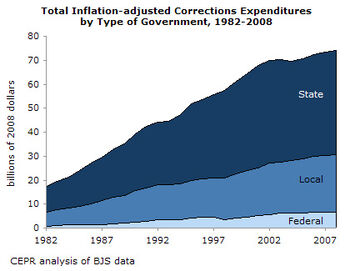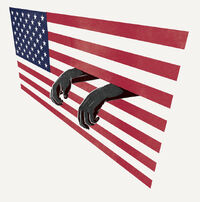 Share links: cost and costs. This article was written by Timeshifter.
See also: Drug war charts and maps. And: cannabis arrests. And: Drug war causes high U.S. incarceration rate. And: People in prisons and jails in the USA for drug-related crime. And: Number of marijuana prisoners in the USA.
Mass incarceration could be costing the United States over $1 trillion a year. [60]. Sam Stecklow. 17 Sept 2016. Fusion.
From the study abstract: "This study draws on a burgeoning area of scholarship to assign monetary values to twenty-two different costs, which yield an aggregate burden of one trillion dollars. This approaches 6% of gross domestic product and dwarfs the amount spent on corrections. For every dollar in corrections costs, incarceration generates an additional ten dollars in social costs."
Some drug-war cost estimates
Edit
Drug War Clock | DrugSense: "The U.S. federal government spent over $15 billion dollars in 2010 on the War on Drugs, ... State and local governments spent at least another 25 billion dollars." See sources there.
Are We Addicted To Drug War Money? Common Sense for Drug Policy. Additional costs of the drug war. "The $5.9 billion drug testing industry should be replaced with impairment testing. Discovering marijuana use a week ago is as irrelevant as finding beer drinking a week ago."
Cost of criminal justice system
Edit
State prisons averaged $31,286 per inmate in 2010. It ranged from $14,603 in Kentucky to $60,076 in New York.
Federal prisons averaged $30,619 per inmate in 2014.
See info and charts from Wikipedia: Incarceration in the United States. And: United States incarceration rate. And: War on Drugs.
"Spending on law-enforcement by states and local governments hit $212 billion in 2011, including judicial, police and corrections costs, according to the most recent estimates provided to the U.S. Census Bureau." - From Wall Street Journal article: As Arrest Records Rise, Americans Find Consequences Can Last a Lifetime. Aug. 18, 2014.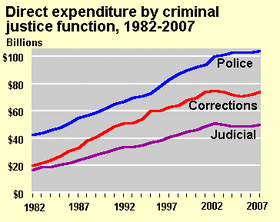 See this timeline graph to the right. Criminal justice system cost $228 billion total in 2007. $50 billion for judicial and legal costs. Plus $104 billion for police. Plus $74 billion for corrections.
In 2007, around $74 billion was spent on corrections alone according to the U.S. Bureau of Justice Statistics: Justice Expenditures and Employment, FY 1982-2007 - Statistical Tables. See PDF and table 2: "Total justice expenditures, by justice function, FY 1982–2007 (real dollars)". Table 2 is copied below.
Table 2. Total justice expenditures, by justice function,
fiscal year 1982–2007 (real dollars).
Real dollars (inflation adjusted to 2007 constant dollars).
Expenditures (in millions)
Year
Total
Judicial and
legal services
Police
protection
Corrections
1982
84,129
18,132
44,625
21,371
1987
114,484
24,356
55,903
34,226
1992
154,912
34,576
68,216
52,120
1997
189,463
41,383
84,198
63,884
2002
227,672
51,052
100,685
75,933
2007
227,563
49,721
103,643
74,198
New York City pays $167,731 per year per prisoner
Edit
More charts
Edit
Click the infographics to enlarge them.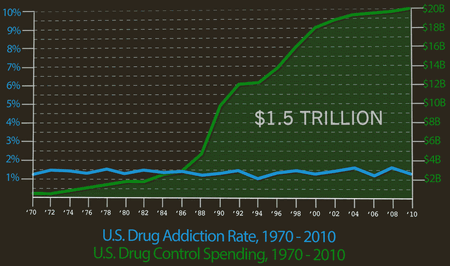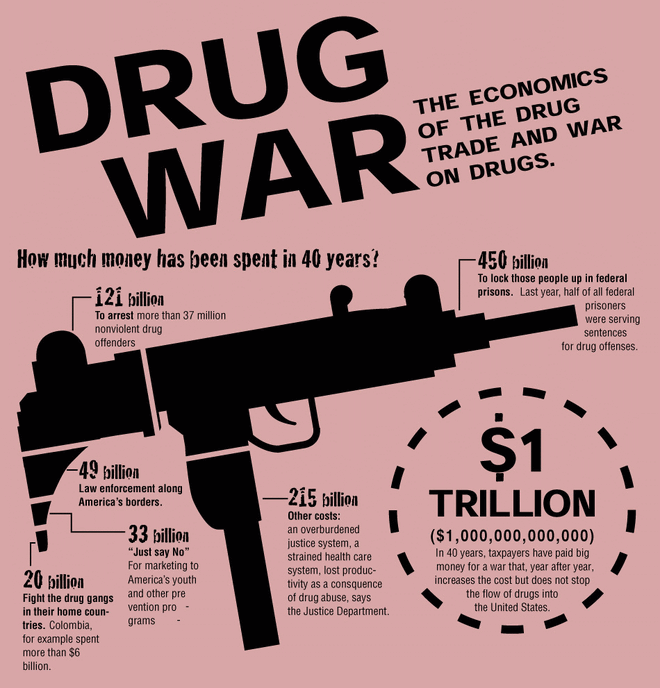 USA. Direct expenditure by criminal justice function
Edit
Drug war costs versus education costs
Edit
Jimmie Carter: Call Off the Global Drug War. June 16, 2011. New York Times. Article quote (emphasis added):
Former California Gov. Arnold Schwarzenegger pointed out that, in 1980, 10 percent of his state's budget went to higher education and 3 percent to prisons; in 2010, almost 11 percent went to prisons and only 7.5 percent to higher education. Maybe the increased tax burden on wealthy citizens necessary to pay for the war on drugs will help to bring about a reform of America's drug policies.
2017 Global Marijuana March and 420
Edit

May 6, 2017, Saturday, or thereabouts. And April 20 (4/20), or thereabouts. Rallies and marches overall change public opinion for the better! See: Cannabis polls.
2017 Facebook event pages for Global Marches and 420. - Some cities.
Main Facebook pages for organizing global marches.

Cannabis is safer
Edit
Return to top. See article: Cannabis is safer.
See: Reagan's war on cannabis. And: Holy War on Drugs, Republican-led mass incarceration.
Ronald Reagan

, 1980

campaign speech

1:

"Leading medical researchers are coming to the conclusion that marijuana, pot, grass, whatever you want to call it, is probably the most dangerous drug in the United States, and we haven't begun to find out all of the ill effects, but they are permanent ill effects. The loss of memory for example."
See Reagan say it at 1 minute 7 seconds into this video clip narrated by Woody Harrelson.
See longer article: Cannabis is safer.

Above quote is from Sanjay Gupta interview of Obama on April 15, 2015. Interview aired on CNN on April 19, 2015. [69][70][71].
Presidents can not reschedule it
Edit
See main article: Presidents alone can not reschedule marijuana.
The president alone can not reschedule marijuana. [75] [76][77][78]. Since HHS (Health and Human Services) and the DEA (Drug Enforcement Administration) have again declined to reschedule or deschedule cannabis, then only Congress can do so. But Congress removed help for veterans: Republicans in Congress Won't Let Veterans Access Medical Marijuana After All. [79][80]. And Congressional Republican committee leaders refuse hearings on CARERS bill to reschedule cannabis. See: Medical Marijuana Advocates Rally to Loosen Restrictions. By Alicia Ault. 23 Mar 2016. Medscape.
Drug war, control, mass incarceration
Edit
Green love
Edit
The Global Marijuana March is the first Saturday in May. The first Saturday in May is also World Naked Gardening Day. (see Google search for it). But, be safe!
Republicans

think they can spend an infinite amount of money (

many trillions of dollars

) on health-insurance-company-based healthcare, and have an

infinite number of babies

, to feed their appetite for

endless ground wars

, and for more inmates for more prisons for

more drug war.
Single-Payer. Half the cost of Trumpcare
Edit
Portugal. Few die of overdose
Edit
Portugal has decriminalized all drugs. Like Canada it has universal healthcare. See: Portugal. Cannabis-related links. See: Wikipedia: Drug policy of Portugal and Wikipedia: Health in Portugal. Nearly all of the European Union (EU) has universal healthcare. [81][82]. See: List of countries with universal health care.
Source for above chart: Are any conservatives in the US for a single payer and a universal health care system, or can they not coexist? Chart is from comment around March 11, 2017 by Dan Munro, "author of Casino Healthcare and Forbes contributor".
Canadian Single Payer: Show health card, get "free" care paid for by taxes. No deductibles on basic Canadian health care, and co-pays are extremely low or non-existent.
The $0 Alternative To Trumpcare. See chart below. USA versus top ten healthiest nations.
Universal healthcare and longer life, at half the cost of US healthcare.
Canada passes US in middle-class wealth. Median after-tax middle-class income in Canada is higher. [84]. Why? Canadians pay so much less for far better healthcare. And: Canada has higher minimum wage.
Portugal decriminalised drugs 14 years ago – and now hardly anyone dies from overdosing. 2015 article by Chris Ingraham. Chart below is from the article.
"The country has 3 overdose deaths per million citizens, compared to the EU average of 17.3."
In 2014 the USA had 147 overdose deaths per million residents. [85] [86] [87] [88]
US charts:
Ibogaine cure:
USA. Republican-led drug war
Edit
The Cannabis War is over and the U.S. Republican Party has lost. They may not know it yet, so keep marching! See Reagan's War on Cannabis. Please register and vote!
New Mexico's Republican governor vetoes a bill that would have allowed medical marijuana for opioid addiction. April 7, 2017. And: New Mexico's Republican governor vetoes the 911 Good Samaritan Overdose Prevention Bill. April 7, 2017. And: Idaho's Republican governor vetoes a broadly-supported asset forfeiture reform bill. April 7, 2017.
Categories
Edit
Ad blocker interference detected!
Wikia is a free-to-use site that makes money from advertising. We have a modified experience for viewers using ad blockers

Wikia is not accessible if you've made further modifications. Remove the custom ad blocker rule(s) and the page will load as expected.