Chicago, Illinois, USA
Talk

4
1,518pages on
this wiki
Occasional international news over time.
See: Current events and news. Facebook: Global Marijuana March.
See: Cannabis news sources. More: Cannabis news and events archive.
See: Cannabis news sources. Facebook: Global Marijuana March. Participate: 2015 GMM-420.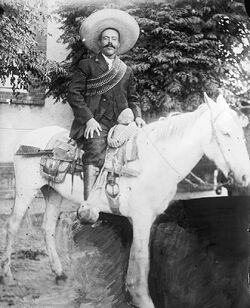 Ronald Reagan, 1980 campaign speech [70]: "Leading medical researchers are coming to the conclusion that marijuana, pot, grass, whatever you want to call it, is probably the most dangerous drug in the United States, and we haven't begun to find out all of the ill effects, but they are permanent ill effects. The loss of memory for example."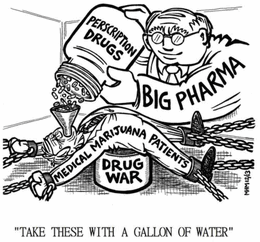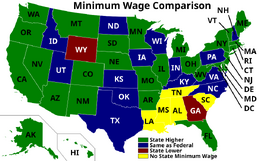 VoteMedicalMarijuana.org - poor legislative record of most Republicans. Their lobbyists have lots of money. [82] -->>
Record high in the Dow, but median wage remains stagnant. [85]. Republicans block cannabis and minimum wage progress.

Voting for most Republicans keeps boots on the ground longer: In cannabis wars, in Sunni-Shia holy wars, in cultural wars of the Religious Right in the USA. It all distracts from the failure of trickle-down economics [91] of the 1%.
If a bigot like Henry Ford can figure out higher wages (and hemp), maybe so can the do-nothing Republican Congress.
Running an economy is simple. The free market concentrates wealth. So progressive taxation is a necessity. Along with a living minimum wage. If money is constantly recycled, then people have money to spend, and unemployment is low. Also, there is less crime, and less spending for police, courts, and prisons. So more money goes to individuals to keep the economy running.
Astounding Percentage Disapprove Of GOP. Some reasons: Republican politicians, private prisons, and sheriffs still want cannabis war. Obama says let states decide. House voted (with only a few Republicans) to let states alone on medical cannabis.
Remember Romney Republicans in 2012? Compare to 2014! Happy days are here again!: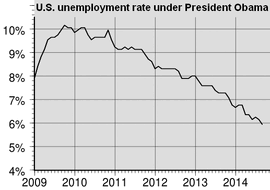 Obama helping turn around the Reagan-Bush War on Cannabis, mandatory minimums, and mass incarceration.

A Crucial Election Season for Legalizing Marijuana and Ending the Drug War - state-by-state info. See also: VoteMedicalMarijuana.org - poor record of most Republicans. Scoring of legislative records of candidates. See: VoteForMarijuana.net - Help fill another database of politicians' records concerning cannabis. [99]. See: Vote Hemp.
Majority Of Employers Say Raise The Minimum Wage. So why do Republicans block it?
U.S. Election, November 4, Tuesday. Absentee and Early Voting. State-by-state info. [111][112]. Turnout matters! State-by-state voter registration deadlines. See: Online registration.[113]. And, Voter Registration by mail. CanIvote.org ~ Are you registered, and where is my polling place.

Obama helping turn around the Reagan-Bush War on Cannabis, mandatory minimums, and mass incarceration:
See older news: Cannabis news and events archive.
See: Cannabis news sources. Facebook: Global Marijuana March. Participate: 2015 GMM-420.
More cannabis-related links, city lists, and graphics.
Social media, Facebook
Edit
Facebook:
Local links
Edit
City info
Edit
Global Marijuana March
Edit
GMM (years signed up). This city participated or signed up one year (or more) for the Global Marijuana March (GMM), or the Million Marijuana March (MMM). 225 cities from 42 nations signed up for May 4, 2013 or thereabouts.175 cities from 33 nations signed up for May 5, 2012 or thereabouts. See also: 4/20 event lists. 845 different cities have signed up from 76 different nations since 1999.
 Right-click any region for its city list.

Facebook: Saturday, May 8th Chicago Marijuana March!
GMM:
Chicago: Richey richey.gupta(at)gmail.com 847-275-0473 . or Dan Linn danlinn(at)illinoisnorml.org 847 341 0591 Federal Plaza Saturday, May 2 (at) NOON.
Participants marched with police escorts through the city, displaying signs, singing, dancing and chanting in peaceful protest.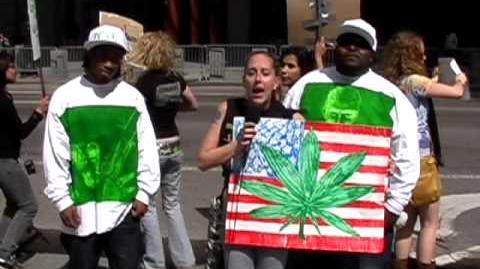 Chicago: Richey richey.gupta(at)gmail.com 847-275-0473 . or Dan Linn danlinn(at)illinoisnorml.org 847 341 0591 200 people in '07, 40 marching. Federal Plaza Saturday, May 3 (at) NOON.
GMM:
Report (from old GMM site):
After spending a lot of the last two weeks helping promote the Global Marijuana March event from word I was getting out of Chicago, on may 5, at 2:15 in the afternoon I hopped on a Trialways bus head for the Chi-town in what would be over six a half hour bus trip one way.
I had a two hour lay-over in Bloomington, Illinois so I pulled out my lil CD player and we listen to the Individuals Something To Smoke To CD, talked, partied while waiting on the bus from Bloomington to Chicago.
I'm starting to feel good about this trip thinking it is Chicago we should draw 100 maybe 300 people out. I would have never have guessed the weekend was going to be a nightmare.
My bus arrives in Chicago at 8:35 Friday night; Richey was there to pick me up just as he said he would be. I put my bags into the trunk of Richey's car, and we were off to Windy Allen's place. This is where the nightmare begins!
Richey forgets, but that's OK, Windy will have some when we get there. She did and that was the best thing about the first night in Chicago.
We pull up to Windy's house, and I get my bags out of Richey car while he calls Windy on his cell phone so she will come out and let us in her place. Windy lives in a basement room, she offered me a spot on her floor about a week ago and I excepted, thinking it would be a swept floor, I was wrong. Windy comes out to meet us we chat for a lil, and she invites us in. Richey said, he had to be going, but before leaving we talked more about Richey coming back the next morning to pick us up before the march. We all agreed on between 9:30 and 10:00 in the morning before Richey takes off for the night.
Windy and I headed into her one room basement apartment. Books and papers flung around the room, and in Windy's words the counters are somewhat clean. Now I'm a lil upset with Richey for dropping me off at this place. I would have stayed at the bus station, it was cleaner (I found out later Richey had never been in her apt.). I put my bags on a chair and Windy ask if I want anything to eat or drink. I didn't want anything but she was persistent so I said I would drink some coffee.
She picked up a jar of water next to several other jars of water dump out some of the water added a couple spoonfuls of coffee and stuck it in the microwave. I sit the coffee down never touching it or drinking a drop of it.
I finally got Windy to go out to the van and medicate before I had to try and sleep on that floor.
Windy was in charge of finding a sound system or bullhorn from the way she talked. She said she would pick-up a bullhorn on the way to the march in the morning.
I woke up with a killer backache from sleeping on the floor. Richey got there at 10:00 because of Windy dragging ass we didn't leave her place until after 11:00 and she had us running here and there before we even headed to pick up a bullhorn for the march.
Windy was in Radio Shack for over ten minutes telling Richey on the Cell phone she was getting the bullhorn while we was double parked in the street waiting for her. When Windy does return it is without a bullhorn. So now no sound system or bullhorn at the event.
We pull up in front of the Federal Plaza at 12:10 there was a small group of people that showed up for the march and there were just as many policemen.
I got out of Richey car a lil disgusted about the show in people and the big show of law enforcement.
My bag was heavy and I walked right past the small group that had gathered already so I could sit me bag down. I didn't get a chance to thank that group of people for coming out, before they took off.
I'm sure the show in law enforcement detoured some from gathering with us.
As the day went on we had a few stand with us, but never having 15 or more people at onetime there nor did anyone carry any signs. Even I was guilty of not bringing my own sign, no jail for pot, and I gave my Free the Vancouver 3 to the Individuals because I didn't want to carry it back from the Smoke Out protest last year in Chicago, The cop's dwindled as an hour or so pasted to one police officer and one paddy wagon.
Here I want to plug I believe it was Channel 7 in Chicago. They didn't cover us, but they did come out with I camera truck. They went bye, went around the block and bye us again. They were there to cover it if more people would have showed up.
At 3:00 in the afternoon Richey was ready to go when it was down to four or five of us. Dan Lynn from NORML, Richey of Lokal 420 Jason of US Marijuana Party of Illinois and I.
Richey and I took Wendy to her van dropped her off. We head to the bus station. I got the next ticket to Peoria which would be 7:00am the next morning.
Now I have to spend the night at the bus station. I let Richey know that I would have to hang around the bus station all day and night.
Richey called a buddy, the next thing I knew we were headed for a college party. Oh to be young again, the drinking games they come up with, and drinking out of the keg as you are upside down. Oh what fun they have! But there was not much open smoking of marijuana.
I know free beer will get people to events and rallies, and it did remind me that I'm not a young man anymore.
Richey took me back to the bus station around 11:00pm it would be another eight hours before I would be heading home and another 12 hours before I would be home.
I want to thank the ones that showed up, well you know the saying '---- the rest of you'.
Richey got some video with my cam, not sure what's on it yet but will have it up in a day or two.
On behalf of the ones that were to organize this event in Chicago, sorry.
They say if it doesn't play in Peoria, it won't play anywhere. Well next year a Global Marijuana March will play in Peoria!
Richard Rawlings
US Marijuana Party
More info, links, years
Edit
Cost of drug war
Edit
Appendix Table 1. Total justice expenditures,
fiscal year 1982–2007. USA.
Nominal dollars (not adjusted for inflation), and real dollars (inflation adjusted to 2007 constant dollars).
$228 billion in 2007. Police, corrections, courts.
Year
Nominal dollars
(in millions)
Real dollars
(in millions)
1982
$35,842
$84,129
1987
58,871
114,484
1992
93,777
154,912
1997
129,793
189,463
2002
179,580
227,672
2007
227,563
227,563
Justice Expenditures and Employment, FY 1982-2007 - Statistical Tables. NCJ 236218. By Tracey Kyckelhahn, Ph.D., BJS Statistician. December 2011. U.S. Bureau of Justice Statistics (BJS). See chart.
2010 state prison costs: The Price of Prisons: What Incarceration Costs Taxpayers. By the Vera Institute of Justice. "Total taxpayer cost per inmate. Among the 40 states surveyed, representing more than 1.2 million inmates (of 1.4 million total people incarcerated in all 50 state prison systems), the total per-inmate cost averaged $31,286 and ranged from $14,603 in Kentucky to $60,076 in New York (see Figure 4)."
Cannabis is safer
Edit
See longer article: Cannabis is safer.
Cannabis is safer

!
See full article: Cannabis is safer.
Share links: safer or safer cannabis or safercannabis

USA. 1 in 10 deaths of working-age adults are alcohol-related (disease, overdose, car crashes, falls, violence, and more). 87,798 per year from 2006 to 2010. [151][152][153][154][155]. Since marijuana legalization, highway fatalities in Colorado are at near-historic lows. By The Washington Post. [156][157]. Motor vehicle crashes are the leading cause of death for U.S. teens. Teen drivers have 3 times more fatal crashes per mile driven. Drinking and driving (2700 yearly), and texting while driving (3000 yearly), are the leading causes. Scary video. [158][159][160][161][162]. Graduated driver licensing has been shown to greatly reduce teen accidents. [163][164][165][166]. Oct. 2014 article: In California full marijuana decriminalization went into effect on Jan. 1, 2011, the report finds that "marijuana decriminalization in California has not resulted in harmful consequences for teenagers, such as increased crime, drug overdose, driving under the influence, or school dropout. In fact, California teenagers showed improvements in all risk areas after reform." Maybe we should consider graduated drinking licenses for alcohol modeled on customs in France, Portugal, Spain, Greece, Italy, etc. [167][168].
Quotes in the image to the left (and in the text below) are from the U.S. government's landmark 1999 Institute of Medicine (IOM) report, Marijuana and Medicine: Assessing the Science Base. The full text of the report is available for free online at the above link, and is searchable. The table of contents by chapter is on the sidebar. The report is also available as a free PDF download. Quotes below are followed by their references. Emphasis added.
Page 109: "Indeed, epidemiological data indicate that in the general population marijuana use is not associated with increased mortality. 138"
- 138. Sidney S, Beck JE, Tekawa IS, Quesenberry CP Jr, Friedman GD. 1997a. Marijuana use and mortality. American Journal of Public Health 87:585—590.
Page 107: "When heavy marijuana use accompanies these symptoms [amotivation], the drug is often cited as the cause, but no convincing data demonstrate a causal relationship between marijuana smoking and these behavior characteristics. 23"
- 23. Chait LD, Pierri J. 1992. Effects of smoked marijuana on human performance: A critical review. In: L Murphy and A Bartke, Editors, Marijuana/Cannabinoids: Neurobiology and Neurophysiology. Boca Raton, FL: CRC Press. Pp. 387—424.
Page 119: "There is no conclusive evidence that marijuana causes cancer in humans, including cancers usually related to tobacco use."
---
Obama helping turn around the Reagan-Bush War on Cannabis, mandatory minimums, and mass incarceration:
Categories
Edit