Chicago, Illinois, USA
Talk

4
1,498pages on
this wiki
Share link: www.cannabis.wikia.com/chicago
Social media, Facebook
Edit
Facebook:
Local links
Edit
City info
Edit
Global Marijuana March
Edit
GMM (years signed up). This city participated or signed up one year (or more) for the Global Marijuana March (GMM), or the Million Marijuana March (MMM). 218 cities from 41 nations signed up for May 4, 2013 or thereabouts.175 cities from 33 nations signed up for May 5, 2012 or thereabouts. See also: 4/20 event lists. 809 different cities have signed up from 72 different nations since 1999.
 Right-click any region for its city list.

See Global Marijuana March 2012 map, and GMM signup.
Facebook: Saturday, May 8th Chicago Marijuana March!
GMM:
Chicago: Richey richey.gupta(at)gmail.com 847-275-0473 . or Dan Linn danlinn(at)illinoisnorml.org 847 341 0591 200 people in '07, 40 marching. Federal Plaza Saturday, May 3rd (at) NOON.
GMM:
After spending a lot of the last two weeks helping promote the Global Marijuana March event from word I was getting out of Chicago, on may 5, at 2:15 in the afternoon I hopped on a Trialways bus head for the Chi-town in what would be over six an half hour bus trip one way.
I had a two hour lay-over in Bloomington, Illinois so I pulled out my lil CD player and we listen to the Individuals Something To Smoke To CD, talked, partied while waiting on the bus from Bloomington to Chicago.
I'm starting to feel good about this trip thinking it is Chicago we should draw 100 maybe 300 people out. I would have never have guessed the weekend was going to be a nightmare.
My bus arrives in Chicago at 8:35 Friday night; Richey was there to pick me up just as he said he would be. I put my bags into the trunk of Richey's car, and we were off to Windy Allen's place. This is where the nightmare begins!
Richey forgets, but that's OK, Windy will have some when we get there. She did and that was the best thing about the first night in Chicago.
We pull up to Windy's house, and I get my bags out of Richey car while he calls Windy on his cell phone so she will come out and let us in her place. Windy lives in a basement room, she offered me a spot on her floor about a week ago and I excepted, thinking it would be a swept floor, I was wrong. Windy comes out to meet us we chat for a lil, and she invites us in. Richey said, he had to be going, but before leaving we talked more about Richey coming back the next morning to pick us up before the march. We all agreed on between 9:30 and 10:00 in the morning before Richey takes off for the night.
Windy and I headed into her one room basement apartment. Books and papers flung around the room, and in Windy's words the counters are somewhat clean. Now I'm a lil upset with Richey for dropping me off at this place. I would have stayed at the bus station, it was cleaner (I found out later Richey had never been in her apt.). I put my bags on a chair and Windy ask if I want anything to eat or drink. I didn't want anything but she was persistent so I said I would drink some coffee.
She picked up a jar of water next to several other jars of water dump out some of the water added a couple spoonfuls of coffee and stuck it in the microwave. I sit the coffee down never touching it or drinking a drop of it.
I finally got Windy to go out to the van and medicate before I had to try and sleep on that floor.
Windy was in charge of finding a sound system or bullhorn from the way she talked. She said she would pick-up a bullhorn on the way to the march in the morning.
I woke up with a killer backache from sleeping on the floor. Richey got there at 10:00 because of Windy dragging ass we didn't leave her place until after 11:00 and she had us running here and there before we even headed to pick up a bullhorn for the march.
Windy was in Radio Shack for over ten minutes telling Richey on the Cell phone she was getting the bullhorn while we was double parked in the street waiting for her. When Windy does return it is without a bullhorn. So now no sound system or bullhorn at the event.
We pull up in front of the Federal Plaza at 12:10 there was a small group of people that showed up for the march and there were just as many policemen.
I got out of Richey car a lil disgusted about the show in people and the big show of law enforcement.
My bag was heavy and I walked right past the small group that had gathered already so I could sit me bag down. I didn't get a chance to thank that group of people for coming out, before they took off.
I'm sure the show in law enforcement detoured some from gathering with us.
As the day went on we had a few stand with us, but never having 15 or more people at onetime there nor did anyone carry any signs. Even I was guilty of not bringing my own sign, no jail for pot, and I gave my Free the Vancouver 3 to the Individuals because I didn't want to carry it back from the Smoke Out protest last year in Chicago, The cop's dwindled as an hour or so pasted to one police officer and one paddy wagon.
Here I want to plug I believe it was Channel 7 in Chicago. They didn't cover us, but they did come out with I camera truck. They went bye, went around the block and bye us again. They were there to cover it if more people would have showed up.
At 3:00 in the afternoon Richey was ready to go when it was down to four or five of us. Dan Lynn from NORML, Richey of Lokal 420 Jason of US Marijuana Party of Illinois and I.
Richey and I took Wendy to her van dropped her off. We head to the bus station. I got the next ticket to Peoria which would be 7:00am the next morning.
Now I have to spend the night at the bus station. I let Richey know that I would have to hang around the bus station all day and night.
Richey called a buddy, the next thing I knew we were headed for a college party. Oh to be young again, the drinking games they come up with, and drinking out of the keg as you are upside down. Oh what fun they have! But there was not much open smoking of marijuana.
I know free beer will get people to events and rallies, and it did remind me that I'm not a young man anymore.
Richey took me back to the bus station around 11:00pm it would be another eight hours before I would be heading home and another 12 hours before I would be home.
I want to thank the ones that showed up, well you know the saying '---- the rest of you'.
Richey got some video with my cam, not sure what's on it yet but will have it up in a day or two.
On behalf of the ones that were to organize this event in Chicago, sorry.
They say if it doesn't play in Peoria, it won't play anywhere. Well next year a Global Marijuana March will play in Peoria!
Richard Rawlings
US Marijuana Party
More info, links, years
Edit
More info, tips, links, and    


media

of all kinds.
Note: Update any section of this page. Feel free to add sections for years, events, legal initiatives, history, people, organizations, gatherings, and so on. Add links and info of all kinds. Some sources: Category:Cannabis-related events, GMM yearly city lists, GMM links, wikipedia:Category:Cannabis activism, cannabis culture, etc.. Also, search the web (add city to search) for cannabis activism, groups, 420 events, harvest festival events, ballot initiatives, court cases, etc.. Add links for reports, articles, photos, graphics (posters, banners, flyers), videos, press, media coverage, etc.. Upload photos and graphics. You can help: Category:Work in progress. See also: Video help and search links.
Toggle between wikitext and    
visual editing. 
Some editors may prefer the wikitext source editor (Wikipedia-style editing). Click the source tab at the top right of the editing window. Some browsers work better with source editing, too. For visual editing click the visual tab.
Rich-text editing (RTE) or "visual editing" can sometimes be problematic, or slow. For example; see Portal: Rich-text editor problems when using Firefox. Visual editing is sometimes called WYSIWYG editing.
To make source editing the default, and to turn off visual editing altogether, logged-in users can change their preference settings. Go to the editing tab in your preferences (Special:Preferences). Uncheck "Enable visual editor," and then save the settings. To turn it back on check the box, and save the settings.
---
See also: Latest template for city articles. Copy the parts you need.
Incarceration rates
Edit
Share link: www.cannabis.wikia.com/compare
See also: Drug war charts and maps.
The purple elephant in the room:
Cost of drug war
Edit
Breaking the Taboo
Edit
Share link: www.cannabis.wikia.com/taboo
Home Page (BreakingTheTaboo.info). More info [5]. See TabooBreakers on Twitter. See Global Commission on Drug Policy and Facebook page. Quotes from video clips on the trailer: President Richard Nixon: "total war against public enemy number one". President Ronald Wilson Reagan: "When we say no to drugs it will be clear that we mean absolutely none". President George H.W. Bush: "Some think there won't be room for them in jail. We'll make room". Morgan Freeman: "Since 1971 2.5 trillion dollars have been spent on the War on Drugs". Look who's breaking the taboo: Richard Branson, Kate Winslet, Sam Branson, Morgan Freeman, and many more. See also: MarijuanaMajority.com. Share link. Full version in English is no longer available online. Hey Richard Branson, George Soros, Peter Lewis, or whoever, please buy it and put it back online!
Full video
(Portuguese and English version)


Youtube link for more info and sizes.

Arnold Schwarzenegger
smoking cannabis
Quentin Tarantino
Edit
[1][2][3][4]. Cory Booker, mayor of Newark, New Jersey: "I'm going to battle on this," the mayor says. "We're going to start doing it the gentlemanly way. And then we're going to do the civil disobedience way. Because this is absurd. I'm talking about marches. I'm talking about sit-ins at the state capitol. I'm talking about whatever it takes." Quote source.

Quentin Tarantino. Video:
War on Drugs is Like Slavery.
Cannabis is safer
Edit
Share link: www.cannabis.wikia.com/safer
Video. Tips from former tobacco smokers.  



Youtube link.

Cigarette Ingredients - Chemicals in Cigarettes. Tri-County Cessation Center. "The list of 599 additives approved by the US Government for use in the manufacture of cigarettes is something every smoker should see. Submitted by the five major American cigarette companies to the Dept. of Health and Human Services in April of 1994, this list of ingredients had long been kept a secret. ... While these ingredients are approved as additives for foods, they were not tested by burning them, and it is the burning of many of these substances which changes their properties, often for the worse. Over 4000 chemical compounds are created by burning a cigarette – 69 of those chemicals are known to cause cancer." See: Wikipedia: Tobacco harm reduction.

"In October 2008 the American Association of Public Health Physicians (AAPHP) became the first medical organization in the U.S. to officially endorse tobacco harm reduction as a viable strategy to reduce the death toll related to cigarette smoking." [7] [8] Joel Nitzkin: "So if we can figure that the nicotine in the e-cigarettes is basically a generic version of the same nicotine that is in prescription products, we have every reason to believe that the hazard posed by e-cigarettes would be much lower than one percent, probably lower than one tenth of one percent of the hazard posed by regular cigarettes." [9] [10]

On the right side in clockwise order: Carl Sagan, Michael Phelps, Stephen King, Steve Jobs, Montel Williams.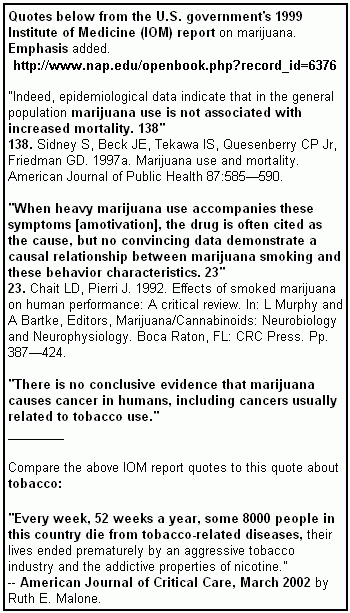 Quotes in the image to the left (and in the text below) are from the U.S. government's landmark 1999 Institute of Medicine (IOM) report, Marijuana and Medicine: Assessing the Science Base. The full text of the report is available for free online at the above link, and is searchable. The table of contents by chapter is on the right side. Quotes below are followed by their references. Emphasis added.
Page 109: "Indeed, epidemiological data indicate that in the general population marijuana use is not associated with increased mortality. 138"
- 138. Sidney S, Beck JE, Tekawa IS, Quesenberry CP Jr, Friedman GD. 1997a. Marijuana use and mortality. American Journal of Public Health 87:585—590.
Page 107: "When heavy marijuana use accompanies these symptoms [amotivation], the drug is often cited as the cause, but no convincing data demonstrate a causal relationship between marijuana smoking and these behavior characteristics. 23"
- 23. Chait LD, Pierri J. 1992. Effects of smoked marijuana on human performance: A critical review. In: L Murphy and A Bartke, Editors, Marijuana/Cannabinoids: Neurobiology and Neurophysiology. Boca Raton, FL: CRC Press. Pp. 387—424.
Page 119: "There is no conclusive evidence that marijuana causes cancer in humans, including cancers usually related to tobacco use."
---
Compare the IOM report quotes to this quote about tobacco:
"Every week, 52 weeks a year, some 8000 people in this country die from tobacco-related diseases, their lives ended prematurely by an aggressive tobacco industry and the addictive properties of nicotine." - American Journal of Critical Care, March 2002. Nursing, our public deaths, and the tobacco industry. By Ruth E. Malone.
Categories
Edit