Caracas, Venezuela
Talk

0
1,514pages on
this wiki
City info
Edit
This city participated or signed up one year (or more) for the Global Marijuana March (GMM), or the Million Marijuana March (MMM). 225 cities from 42 nations signed up for May 4, 2013 or thereabouts.175 cities from 33 nations signed up for May 5, 2012 or thereabouts. See also: 4/20 event lists. 845 different cities have signed up from 76 different nations since 1999.
 Right-click any region for its city list.

Caracas: Enrique Dorta enriquedorta(at)gmail.com +34697149495 http://asocannaven.mforos.com asociacioncannabicevenezola@gmail.com, asociacioncannabicavenezolana@hotmail.com
Caracas: Enrique Dorta enriquedorta(at)gmail.com +34697149495 http://asocannaven.mforos.com
Email: asociacioncannabicavenezolana(at)gmail.com
Other years
Edit
More info, tips, links, and    


media

of all kinds.
Note: Update any section of this page. Feel free to add sections for years, events, legal initiatives, history, people, organizations, gatherings, and so on. Add links and info of all kinds. Some sources: Category:Cannabis-related events, GMM yearly city lists, GMM links, wikipedia:Category:Cannabis activism, cannabis culture, etc.. Also, search the web (add city to search) for cannabis activism, groups, 420 events, harvest festival events, ballot initiatives, court cases, etc.. Add links for reports, articles, photos, graphics (posters, banners, flyers), videos, press, media coverage, etc.. Upload photos and graphics. You can help: Category:Work in progress. See also: Video help and search links.
Toggle between wikitext and    
visual editing.
Some editors may prefer the wikitext source editor (Wikipedia-style editing). Click the source tab at the top right of the editing window. Some browsers work better with source editing, too. For visual editing click the visual tab.
Rich-text editing (RTE) or "visual editing" can sometimes be problematic, or slow. For example; see Portal: Rich-text editor problems when using Firefox. Visual editing is sometimes called WYSIWYG editing.
To make source editing the default, and to turn off visual editing altogether, logged-in users can change their preference settings. Go to the editing tab in your preferences (Special:Preferences). Uncheck "Enable visual editor," and then save the settings. To turn it back on check the box, and save the settings.
Incarceration rates
Edit
The purple elephant in the room:
Cost of drug war
Edit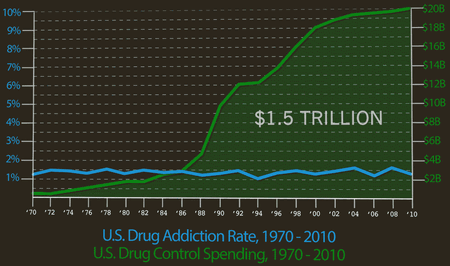 Breaking the Taboo
Edit
Home Page (BreakingTheTaboo.info). More info [5]. See TabooBreakers on Twitter. See Global Commission on Drug Policy and Facebook page. Quotes from video clips on the trailer: President Richard Nixon: "total war against public enemy number one". President Ronald Wilson Reagan: "When we say no to drugs it will be clear that we mean absolutely none". President George H.W. Bush: "Some think there won't be room for them in jail. We'll make room". Morgan Freeman: "Since 1971 2.5 trillion dollars have been spent on the War on Drugs". Look who's breaking the taboo: Richard Branson, Kate Winslet, Sam Branson, Morgan Freeman, and many more. See also: MarijuanaMajority.com. Share link. Full version in English is no longer available online. Hey Richard Branson, George Soros, or whoever, please buy it and put it back online!
Trailer preview.

01:50

Breaking the Taboo - Trailer




---

YouTube link.

Full video
(Portuguese and English version)




---

YouTube link for more info and sizes.
Arnold Schwarzenegger
smoking cannabis
Quentin Tarantino
Edit
Quentin Tarantino. Video:
War on Drugs is Like Slavery.
Cannabis is safer
Edit
More info
Edit
Categories
Edit