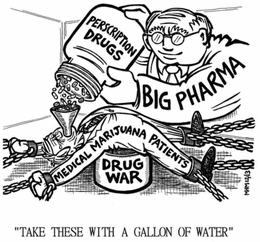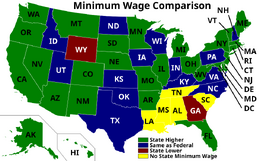 VoteMedicalMarijuana.org - poor legislative record of most Republicans. Their lobbyists have lots of money. [49] -->>
Record high in the Dow, but median wage remains stagnant. [52]. Republicans block cannabis legislation and minimum wage increases.

Voting for most Republicans keeps boots on the ground longer: In cannabis wars, in Sunni-Shia holy wars, in cultural wars of the Religious Right in the USA. It all distracts from the failure of trickle-down economics [55] of the 1%.
If a bigot like Henry Ford can figure out higher wages (and hemp), maybe so can the do-nothing Republican Congress. Running an economy is simple. The free market concentrates wealth. So progressive taxation is a necessity. Along with a living minimum wage. If money is constantly recycled, then people have money to spend, and unemployment is low. Also, there is less crime, and less spending for police, courts, and prisons. So more money goes to individuals to keep the economy running.
Astounding Percentage Disapprove Of GOP. Some reasons: Republican politicians, private prisons, and sheriffs still want cannabis war. Obama says let states decide. House voted (with only a few Republicans) to let states alone on medical cannabis.
Remember Romney Republicans in 2012? Compare to 2014! Happy days are here again!: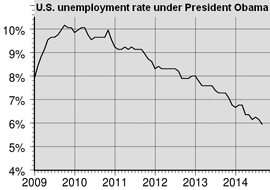 Obama helping turn around the Reagan-Bush War on Cannabis, mandatory minimums, and mass incarceration.

Majority Of Employers Say Raise The Minimum Wage. So why do Republicans block it?
Obama helping turn around the Reagan-Bush War on Cannabis, mandatory minimums, mass incarceration:
Obama said (correctly) that cannabis is safer than alcohol:
2017 Global Marijuana March and 420
Edit
May 6, 2017, Saturday, or thereabouts. And April 20 (4/20), or thereabouts. Rallies and marches overall change public opinion for the better! See: Cannabis polls.
2017 Facebook event pages for Global Marches and 420. - Some cities.
Main Facebook pages for organizing global marches.
Cannabis is safer
Edit
Return to top. See article: Cannabis is safer.
See longer article: Cannabis is safer.

Above quote is from Sanjay Gupta interview of Obama on April 15, 2015. Interview aired on CNN on April 19, 2015. [126][127][128].
Presidents can not reschedule it
Edit
The president alone can not reschedule marijuana. [132] [133][134][135]. Since HHS (Health and Human Services) and the DEA (Drug Enforcement Administration) have again declined to reschedule or deschedule cannabis, then only Congress can do so. But Congress removed help for veterans: Republicans in Congress Won't Let Veterans Access Medical Marijuana After All. [136][137]. And Congressional Republican committee leaders refuse hearings on CARERS bill to reschedule cannabis. See: Medical Marijuana Advocates Rally to Loosen Restrictions. By Alicia Ault. 23 Mar 2016. Medscape.
Drug-war mass incarceration
Edit
Green love
Edit
The Global Marijuana March is the first Saturday in May. The first Saturday in May is also World Naked Gardening Day. (see Google search for it). But, be safe!
Republicans

think they can spend an infinite amount of money (

many trillions of dollars

) on health-insurance-company-based healthcare, and have an

infinite number of babies

, to feed their appetite for

endless ground wars

, and for more inmates for more prisons for

more drug war.
End drug war with Universal Healthcare
Edit
No deductibles on basic Canadian health care and co-pays are extremely low or non-existent. Portugal has universal healthcare. Like Canada. Like nearly all of the EU (European Union). See: Portugal. Cannabis-related links. See: Wikipedia: Health in Portugal and Wikipedia: Drug policy of Portugal.
"The country has 3 overdose deaths per million citizens, compared to the EU average of 17.3."
In 2014 the USA had 147 overdose deaths per million residents. [140] [141] [142] [143]
Categories
Edit
Ad blocker interference detected!
Wikia is a free-to-use site that makes money from advertising. We have a modified experience for viewers using ad blockers

Wikia is not accessible if you've made further modifications. Remove the custom ad blocker rule(s) and the page will load as expected.