Top
Share link: Billie. This article was written by Timeshifter. See also: Influential black cannabis users.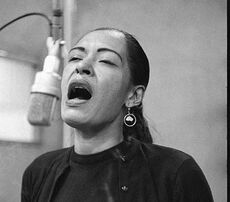 Strange Fruit is still a song for today. The Guardian. "On the last day of 1999, Time magazine selected Strange Fruit as its choice for the best song of the passing century. ... Released in 1939, the record eventually sold over a million copies and became one of the most influential songs of all time."
2015 is the 100th year of her birth. See BillieHoliday.com: timeline, and Billie at 100. See Wikipedia: Billie Holiday.
April 7, 1915 – July 17, 1959. Like many musicians of her time Billie Holiday used marijuana and other drugs, and suffered due to the growing drug war. Times are worse today in some ways. See Jim Crow, and search for info on the drug war and modern-day Jim Crow. See: Race, ethnicity, and the drug war.
02:42

Billie Holiday Strange Fruit

"To Anslinger, this [jazz] was musical anarchy, and evidence of a recurrence of the primitive impulses that lurk in black people, waiting to emerge. 'It sounded,' his internal memos said, 'like the jungles in the dead of night.' Another memo warned that 'unbelievably ancient indecent rites of the East Indies are resurrected' in this black man's music.' ... 'Please prepare all cases in your jurisdiction involving musicians in violation of the marijuana laws. We will have a great national round-up arrest of all such persons on a single day.' ... But when Harry came for them, the jazz world would have one weapon that saved them: its absolute solidarity."
YouTube link [31]. Billie Holiday singing Strange Fruit. See lyrics in the Youtube description, or here.
Full quote:
"Imagine if the government chased sick people with diabetes, put a tax on insulin and drove it into the black market, told doctors they couldn't treat them, and then caught them, prosecuted them for not paying their taxes, and then sent them to jail. If we did that, everyone would know we were crazy. Yet we do practically the same thing every day in the week to sick people hooked on drugs. The jails are full and the problem is getting worse every day." -- Billie Holiday, from chapter 17 of her 1956 autobiography, Lady Sings the Blues.
At the famous Café Society in New York City, "everyone in that group smoked pot," remembered trumpeter Doc Cheatham. "They had a little room off the bandstand and some, including Mary Lou [Williams] and Billie [Holiday], would smoke pot in there. They would put me outside the door in a chair smoking a pipe that would cover the fumes of the pot."
Wikipedia: Café Society. The first racially integrated night club in the United States. Advertised as "The Wrong Place for the Right People." The club also prided itself on treating black and white customers equally, unlike many venues, such as the Cotton Club, that featured black performers but barred black customers except for prominent blacks in the entertainment industry. The club featured many of the greatest black musicians of the day, from a wide range of backgrounds, often presented with a strongly political bent.
Billie Holiday photos:
2017 Global Marijuana March and 420
May 6, 2017, Saturday, or thereabouts. And April 20 (4/20), or thereabouts. Rallies and marches overall change public opinion for the better! See: Cannabis polls.
2017 Facebook event pages for Global Marches and 420. - Some cities.
Main Facebook pages for organizing global marches.
Cannabis is safer
Return to top. See article: Cannabis is safer.
See longer article: Cannabis is safer.

Above quote is from Sanjay Gupta interview of Obama on April 15, 2015. Interview aired on CNN on April 19, 2015. [39][40][41].
Presidents can not reschedule it
See main article: Presidents alone can not reschedule marijuana.
The president alone can not reschedule marijuana. [45] [46][47][48]. Since HHS (Health and Human Services) and the DEA (Drug Enforcement Administration) have again declined to reschedule or deschedule cannabis, then only Congress can do so. But Congress removed help for veterans: Republicans in Congress Won't Let Veterans Access Medical Marijuana After All. [49][50]. And Congressional Republican committee leaders refuse hearings on CARERS bill to reschedule cannabis. See: Medical Marijuana Advocates Rally to Loosen Restrictions. By Alicia Ault. 23 Mar 2016. Medscape.
Drug-war mass incarceration
Green love
The Global Marijuana March is the first Saturday in May. The first Saturday in May is also World Naked Gardening Day. (see Google search for it). But, be safe!
Republicans

think they can spend an infinite amount of money (

many trillions of dollars

) on health-insurance-company-based healthcare, and have an

infinite number of babies

, to feed their appetite for

endless ground wars

, and for more inmates for more prisons for

more drug war.
End drug war with Universal Healthcare
See article: End drug war with universal healthcare.
No deductibles on basic Canadian health care and co-pays are extremely low or non-existent. Portugal has universal healthcare. Like Canada. Like nearly all of the EU (European Union). See: Portugal. Cannabis-related links. See: Wikipedia: Health in Portugal and Wikipedia: Drug policy of Portugal.
"The country has 3 overdose deaths per million citizens, compared to the EU average of 17.3."
In 2014 the USA had 147 overdose deaths per million residents. [53] [54] [55] [56]
Categories
Ad blocker interference detected!
Wikia is a free-to-use site that makes money from advertising. We have a modified experience for viewers using ad blockers

Wikia is not accessible if you've made further modifications. Remove the custom ad blocker rule(s) and the page will load as expected.