Occasional international news over time.
See: Current news. Archive. Facebook: Global Marijuana March. News sources. 2015 GMM. 2016. Facebook hashtags: [2][3][4]. Twitter: [5][6][7]. Google+: [8].
CIA and Mafia hit men. JFK. How many more confessions do we need? CIA starts wars. See: Wars, drug wars, and brutality on demand.
Washington DC. Pot Over Pills. Hundreds of Soldiers Spend Veteran's Day Fighting for Pot Legalization [11]. And: Rally by Texas vets calls for legal pot to combat war wounds. And: Vet Faces Felony For Helping Veterans Treat PTSD With Cannabis. [12][13]. And: What Veterans Want in Healthcare, and Why the GOP Avoids It.
Ohio Rejects Marijuana Legalization. Late Night with Seth Meyers. Too funny. And: Medical marijuana dispensaries open in Illinois. [14][15][16]. Video. [17].
Mexican Supreme Court ruling. 4 people (of SMART) can grow and use marijuana [18][19][20][21][22][23]. New York Times: Push for Legal Marijuana Spreads.
Facebook's Sean Parker gets behind 2016 legalization initiative in California [24][25]. And: Uruguay, the first nation to legalize, moving to a full commercial market [26][27].
Million Student March for free college tuition and student debt cancellation. See: Transfer of funds from higher education to the War on Drugs. Republicans defund higher education, and delay ending mass incarceration.
How Did the USA Become Incarceration Nation? [28].And: New Tool Exposes Companies Profiting from Mass Incarceration. &: Hundreds Of Cops Kicked Off Force For Sex Crimes [29][30]. &: Hillary Clinton Rattles Prison Stocks With a Single Tweet. Mass incarceration and private prisons.
Another South African Joins the Constitutional Fight to Legalize Dagga (Marijuana). And: Costa Rica Legalizing Growing Marijuana for Personal Use?
Canadian election. Trudeau's party crushes Harper conservatives. Goodbye F-35s, hello marijuana [31][32].
Coalition of top cops against mass incarceration [34][35][36] - Home. And: Texas Students Reach For Sex Toys To Protest Concealed Carry Law. --> NRA dildos helped create some of the mandatory minimum sentences responsible for life for pot sentences.
List of countries and U.S. states by incarceration rate. And: List of U.S. states by homicide rate. And: Firearm death rates in the US by state. And: List of countries by intentional homicide rate.
Hell Freezes Over! Feds to Free Thousands of Drug War Prisoners By Month's End. 46,000 will eventually get early release. Ohio's Republican Attorney General sues Toledo to overturn marijuana decrim [37].
Australia: Federal Government to legalise growing of medicinal cannabis [38].
264th mass shooting of the year. And: Dad cries out against GOP and NRA (National Rifle Association). And: 142 school shootings since Newtown. 45 in 2015.
The GOP and the NRA, and their costly Holy War on drugs, and mass incarceration. Compare to Iran: Woman gets 12-year sentence for cartoons [39].
POLL | How Ohio voters really feel about legalizing marijuana. And: Bernie Sanders would vote for Nevada's legalization initiative if he were a Nevada resident [40][41].
Willie Nelson secures Wall Street backing for his cannabis brand. And: Republican mayor will veto Albuquerque decriminalization [49]. And California: Melissa Etheridge Wows 'Em At Cannabis World Congress.
Poll: Bernie Sanders surges ahead of Hillary Clinton in New Hampshire, 44-37. And again weeks later. [55].
Denver. Police are So Scared of Jury Nullification they Defy Judge's Order and Unlawfully Removed Activists [56][57][58][59]. And: Illinois Governor (Republican) Vetoes Heroin Bill Over Medicaid Treatment Funding. And: Attempted recall of drug-warrior District Attorney of Denver.
| | |
| --- | --- |
| | Education saves money, because of much less recidivism[60][61]. Adulthood could start at 16 or 17, and that high school money saved could be allocated to 1 to 2 years of free college. Little useful for skilled jobs is learned in most poor public high schools. And it is easier to get college loans after passing 1-2 years of free college. |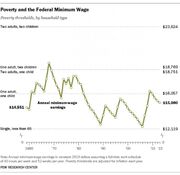 | | |
| --- | --- |
| | 1915 article in a Utah newpaper. |
600 churches call for an end to the drug war. And: Baltimore narcotics cop reveals all the horrible things he saw on the job. And: Bree Newsome removes Confederate flag from South Carolina Capitol. And: Columbia becomes first U.S. university to divest from prisons. [73].
"Imagine if the government chased sick people with diabetes, put a tax on insulin and drove it into the black market, told doctors they couldn't treat them, ... and then sent them to jail. If we did that, everyone would know we were crazy. Yet we do practically the same thing every day in the week to sick people hooked on drugs." - Billie Holiday, 1956.
The

drug war

is a religious war against a spiritual plant. That old-time religion, and their crusades.
Ronald Reagan, 1980 [98][99]: "Leading medical researchers are coming to the conclusion that marijuana, pot, grass, whatever you want to call it, is probably the most dangerous drug in the United States, and we haven't begun to find out all of the ill effects, but they are permanent ill effects. The loss of memory for example." - Reaganism: Cannabis war, trickle-down economics, code-word racism, hate radio, mass incarceration.
Trump said it was OK to "rough up" black protesters, and sent a racist tweet [127]. And you wonder why the Republican-led drug war is so racist. And: Washington, D.C., smells like marijuana, and residents don't really care.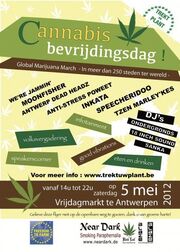 Local links
Edit
Social media, Facebook
Edit
Facebook:
City info
Edit
Global Marijuana March
Edit
GMM (years signed up). This city participated or signed up one year (or more) for the Global Marijuana March (GMM), or the Million Marijuana March (MMM). 225 cities from 42 nations signed up for May 4, 2013 or thereabouts.175 cities from 33 nations signed up for May 5, 2012 or thereabouts. See also: 4/20 event lists. 848 different cities have signed up from 76 different nations since 1999.
Right-click any region for its city list.
GMM:
Antwerp: Joep Oomen info(at)encod.org Tel. 00 32 (0)3 293 0886 (ENCOD), Lange Lozanastraat 14, 2018 Antwerpen, Belgium http://www.encod.org 14.00 at Vrijdagmarkt : picnic with hempsoup, info stand, & free pot plant.
Antwerp: Joep Oomen info(at)encod.org Tel. 00 32 (0)3 293 0886 (ENCOD), Lange Lozanastraat 14, 2018 Antwerpen, Belgium http://www.encod.org 14.00 at Vrijdagmarkt with: REALITY EXPERIMENT - RIO DE AMBERES - ZOUNDZ - HET DWANGBUIZERDEFFECT - SHANTI B + JAKKE & Philippe Decraene (DAK), Kris Verdonck (Trekt Uw Plant), Jos Nijsten (Cannaclopedia), Joep Oomen (ENCOD) picnic with hempsoup, info stand, & free pot plant.
GMM, May 4:
Article, photos, comments: http://indymedia.be/nl/node/27343
Report (from old GMM site): Dear friends,
Today at the Worldwide Marijuana March in Antwerp 4 members of Trekt Uw Plant got arrested on the accusation that they planted a seed and some others because they were protesting against this arrest. Details will follow later. Meanwhile everyone is safe and free after 6 hours of detention and interrogation, the manifestation could continue and was visited by 150 people. The manifestation that was not intended as a blow in (open air cannabis consumption room), became a blow in after the intervention of the police, as a natural consequence of the fact that people came together on that place and the fear of the police for further escalation.
Books, T-shirts and flyers have all been confiscated, as well as 84 seeds, and four people at (each less than the officially tolerated 3 grams) cannabis on him. The police action seems to be politically motivated by the lord mayor of Antwerp, Patrick Janssens (also known as El Kapoen), who apparently ordered this directly without consulting the prosecutor nor the public order section of the Antwerp police force, who had given us permission to realize the event knowing perfectly well what we were going to do: plant a seed of one cannabisplant for each member of the Trekt Uw Plant association.
The event has been filmed - there will be scenes from it available soon.
Best wishes,
Joep/Kris/Martin/Jos/Philippe
Images: http://antwerpen.indymedia.org/news/2007/05/6458.php
Report (from old GMM site):
The GMM in Antwerp, Belgium, on 13 may was a modest manifestation: only a handful of people showed up. The weather was fine, but fear was in the air: Two days before in Antwerp, a man of 18 had shot three people because of the colour of their skin and killed two of them. And as always in Flanders, people have difficulties in showing publicly their support for legal cannabis. One of the major political forces here, the fascist-oriented nationalist party Vlaams Belang, had announced a counter-demonstration, and the local police showed up the with the usual performance. Currently, Vlaams Belang has 34% of the votes in Antwerp, it could very well come to power at the next elections.
The positive news is that we obtained great press coverage (articles in two national newspapers, local television) and for a change, positive media coverage!
One of the objectives of the GMM in Antwerp was the presentation of a new association of cannabis consumers and producers, called "DRAW UP YOUR PLANT", that would start a collective plantation in the coming months. The new association wants to use the principle of giving each adult member the opportunity to grow 1 plant, which according to Belgian legislation, would fit in the category "cultivation for personal use" which has the "lowest priority of persecution".
The new association is planning to start its plantation in June, so when the local elections in Antwerp will take place in October, it would be the time of harvesting.
Images: http://www.cannaclopedia.be/html/galerie_0.html
Report (from old GMM site):
We had a lot of bad luck: heavy rain and wind, the early hour (chosen in order not to compete with Gay Parade in Brussels and a music festival close to Antwerp), late start of publicity campaign as the authorities delayed the permission for weeks, the fact that we could not start in time because unexpectedly, there was a funeral going on in a church close to the venue, the overwhelming presence of police (at least a 100 cops, water cannons, many officers in civilian at or around the place) and a counter demonstration by the Flemish Block Youth Party, a fascist party we have here in Flanders (Dutch speaking part of Belgium).
The theatre started before we even had built our stage. Around the planned hour of start of the event the approx. 10 counter demonstrators came marching on to the square. When the police tried to stop them, they threw a stink bomb, that spread quickly because of the wind. When they found out that this was affecting mostly the crowd who was just saying goodbye to a dead relative, the counter demonstrators disappeared quickly.
Half an hour later we could finally start with entertaining presentations, music, explanation of the Belgian cannabis law, music, high class poetry by the anti-stress poet and witnesses of the war on drugs.
At best, there may have been some 30 participants. But among them several journalists, who covered the event in newspapers and a local TV station and included that this was an event to denounce the war on drugs.
Joep
---
More info, links, years
Edit
Cannabis is safer
Edit
Return to top. See article: Cannabis is safer.
See longer article: Cannabis is safer.
Reagan's war on cannabis
Edit
Return to top. See: U.S. Drug War. Republicans lead.
Reagan's war on cannabis is where the U.S. incarceration nation began.
Majority incarcerated due to drug war
Edit
Incarceration rates. Nations, states
Edit
Categories
Edit