Antwerp, Belgium
Talk

1
1,498pages on
this wiki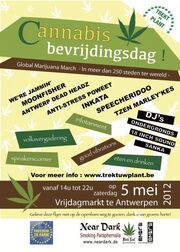 Local links
Edit
Social media, Facebook
Edit
Facebook:
City info
Edit
Global Marijuana March
Edit
GMM (years signed up). This city participated or signed up one year (or more) for the Global Marijuana March (GMM), or the Million Marijuana March (MMM). 221 cities from 42 nations signed up for May 4, 2013 or thereabouts.175 cities from 33 nations signed up for May 5, 2012 or thereabouts. See also: 4/20 event lists. 809 different cities have signed up from 72 different nations since 1999.
 Right-click any region for its city list.

See Global Marijuana March 2012 map, and GMM signup.
GMM:
Antwerp: Joep Oomen info(at)encod.org Tel. 00 32 (0)3 293 0886 (ENCOD), Lange Lozanastraat 14, 2018 Antwerpen, Belgium http://www.encod.org 14.00 at Vrijdagmarkt : picnic with hempsoup, info stand, & free pot plant.
Antwerp: Joep Oomen info(at)encod.org Tel. 00 32 (0)3 293 0886 (ENCOD), Lange Lozanastraat 14, 2018 Antwerpen, Belgium http://www.encod.org 14.00 at Vrijdagmarkt with: REALITY EXPERIMENT - RIO DE AMBERES - ZOUNDZ - HET DWANGBUIZERDEFFECT - SHANTI B + JAKKE & Philippe Decraene (DAK), Kris Verdonck (Trekt Uw Plant), Jos Nijsten (Cannaclopedia), Joep Oomen (ENCOD) picnic with hempsoup, info stand, & free pot plant.
GMM, May 4:
Article, photos, comments: http://indymedia.be/nl/node/27343
Report (from old GMM site): Dear friends,
Today at the Worldwide Marijuana March in Antwerp 4 members of Trekt Uw Plant got arrested on the accusation that they planted a seed and some others because they were protesting against this arrest. Details will follow later. Meanwhile everyone is safe and free after 6 hours of detention and interrogation, the manifestation could continue and was visited by 150 people. The manifestation that was not intended as a blow in (open air cannabis consumption room), became a blow in after the intervention of the police, as a natural consequence of the fact that people came together on that place and the fear of the police for further escalation.
Books, T-shirts and flyers have all been confiscated, as well as 84 seeds, and four people at (each less than the officially tolerated 3 grams) cannabis on him. The police action seems to be politically motivated by the lord mayor of Antwerp, Patrick Janssens (also known as El Kapoen), who apparently ordered this directly without consulting the prosecutor nor the public order section of the Antwerp police force, who had given us permission to realize the event knowing perfectly well waht we were going to do: plant a seed of one cannabisplant for each member of the Trekt Uw Plant association.
The event has been filmed - there will be scenes from it available soon.
Best wishes,
Joep/Kris/Martin/Jos/Philippe
Images: http://antwerpen.indymedia.org/news/2007/05/6458.php
Report (from old GMM site):
The GMM in Antwerp, Belgium, on 13 may was a modest manifestation: only a handful of people showed up. The weather was fine, but fear was in the air: Two days before in Antwerp, a man of 18 had shot three people because of the colour of their skin and killed two of them. And as always in Flanders, people have difficulties in showing publicly their support for legal cannabis. One of the major political forces here, the fascist-oriented nationalist party Vlaams Belang, had announced a counter-demonstration, and the local police showed up the with the usual performance. Currently, Vlaams Belang has 34 % of the votes in Antwerp, it could very well come to power at the next elections.
The positive news is that we obtained great press coverage (articles in two national newspapers, local television) and for a change, positive media coverage!
One of the objectives of the GMM in Antwerp was the presentation of a new association of cannabis consumers and producers, called "DRAW UP YOUR PLANT", that would start a collective plantation in the coming months. The new association wants to use the principle of giving each adult member the opportunity to grow 1 plant, which according to Belgian legislation, would fit in the category "cultivation for personal use" which has the "lowest priority of persecution".
The new association is planning to start its plantation in June, so when the local elections in Antwerp will take place in October, it would be the time of harvesting.
Images: http://www.cannaclopedia.be/html/galerie_0.html
Report (from old GMM site):
We had a lot of bad luck: heavy rain and wind, the early hour (chosen in order not to compete with Gay Parade in Brussels and a music festival close to Antwerp), late start of publicity campaign as the authorities delayed the permission for weeks, the fact that we could not start in time because unexpectedly, there was a funeral going on in a church close to the venue, the overwhelming presence of police (at least a 100 cops, water cannons, many officers in civilian at or around the place) and a counter demonstration by the Flemish Block Youth Party, a fascist party we have here in Flanders (Dutch speaking part of Belgium).
The theatre started before we even had built our stage. Around the planned hour of start of the event the approx. 10 counter demonstrators came marching on to the square. When the police tried to stop them, they threw a stink bomb, that spread quickly because of the wind. When they found out that this was affecting mostly the crowd who was just saying goodbye to a dead relative, the counter demonstrators disappeared quickly.
Half an hour later we could finally start with entertaining presentations, music, explanation of the Belgian cannabis law, music, high class poetry by the anti-stress poet and witnesses of the war on drugs.
At best, there may have been some 30 participants. But among them several journalists, who covered the event in newspapers and a local TV station and included that this was an event to denounce the war on drugs.
Joep
---
More info, links, years
Edit
More info, tips, links, and    


media

of all kinds.
Note: Update any section of this page. Feel free to add sections for years, events, legal initiatives, history, people, organizations, gatherings, and so on. Add links and info of all kinds. Some sources: Category:Cannabis-related events, GMM yearly city lists, GMM links, wikipedia:Category:Cannabis activism, cannabis culture, etc.. Also, search the web (add city to search) for cannabis activism, groups, 420 events, harvest festival events, ballot initiatives, court cases, etc.. Add links for reports, articles, photos, graphics (posters, banners, flyers), videos, press, media coverage, etc.. Upload photos and graphics. You can help: Category:Work in progress. See also: Video help and search links.
Toggle between wikitext and    
visual editing. 
Some editors may prefer the wikitext source editor (Wikipedia-style editing). Click the source tab at the top right of the editing window. Some browsers work better with source editing, too. For visual editing click the visual tab.
Rich-text editing (RTE) or "visual editing" can sometimes be problematic, or slow. For example; see Portal: Rich-text editor problems when using Firefox. Visual editing is sometimes called WYSIWYG editing.
To make source editing the default, and to turn off visual editing altogether, logged-in users can change their preference settings. Go to the editing tab in your preferences (Special:Preferences). Uncheck "Enable visual editor," and then save the settings. To turn it back on check the box, and save the settings.
---
See also: Latest template for city articles. Copy the parts you need.
Incarceration rates
Edit
Share link: www.cannabis.wikia.com/compare
See also: Drug war charts and maps.
The purple elephant in the room:
Cost of drug war
Edit
Breaking the Taboo
Edit
Share link: www.cannabis.wikia.com/taboo
Home Page (BreakingTheTaboo.info). More info [5]. See TabooBreakers on Twitter. See Global Commission on Drug Policy and Facebook page. Quotes from video clips on the trailer: President Richard Nixon: "total war against public enemy number one". President Ronald Wilson Reagan: "When we say no to drugs it will be clear that we mean absolutely none". President George H.W. Bush: "Some think there won't be room for them in jail. We'll make room". Morgan Freeman: "Since 1971 2.5 trillion dollars have been spent on the War on Drugs". Look who's breaking the taboo: Richard Branson, Kate Winslet, Sam Branson, Morgan Freeman, and many more. See also: MarijuanaMajority.com. Share link. Full version in English is no longer available online. Hey Richard Branson, George Soros, Peter Lewis, or whoever, please buy it and put it back online!
Full video
(Portuguese and English version)


Youtube link for more info and sizes.

Arnold Schwarzenegger
smoking cannabis
Quentin Tarantino
Edit
[1][2][3][4]. Cory Booker, mayor of Newark, New Jersey: "I'm going to battle on this," the mayor says. "We're going to start doing it the gentlemanly way. And then we're going to do the civil disobedience way. Because this is absurd. I'm talking about marches. I'm talking about sit-ins at the state capitol. I'm talking about whatever it takes." Quote source.

Quentin Tarantino. Video:
War on Drugs is Like Slavery.
Cannabis is safer
Edit
Share link: www.cannabis.wikia.com/safer
Video. Tips from former tobacco smokers.  



Youtube link.

Cigarette Ingredients - Chemicals in Cigarettes. Tri-County Cessation Center. "The list of 599 additives approved by the US Government for use in the manufacture of cigarettes is something every smoker should see. Submitted by the five major American cigarette companies to the Dept. of Health and Human Services in April of 1994, this list of ingredients had long been kept a secret. ... While these ingredients are approved as additives for foods, they were not tested by burning them, and it is the burning of many of these substances which changes their properties, often for the worse. Over 4000 chemical compounds are created by burning a cigarette – 69 of those chemicals are known to cause cancer." See: Wikipedia: Tobacco harm reduction.

"In October 2008 the American Association of Public Health Physicians (AAPHP) became the first medical organization in the U.S. to officially endorse tobacco harm reduction as a viable strategy to reduce the death toll related to cigarette smoking." [7] [8] Joel Nitzkin: "So if we can figure that the nicotine in the e-cigarettes is basically a generic version of the same nicotine that is in prescription products, we have every reason to believe that the hazard posed by e-cigarettes would be much lower than one percent, probably lower than one tenth of one percent of the hazard posed by regular cigarettes." [9] [10]

On the right side in clockwise order: Carl Sagan, Michael Phelps, Stephen King, Steve Jobs, Montel Williams.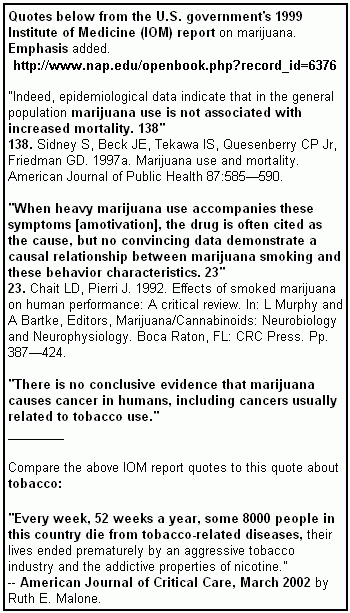 Quotes in the image to the left (and in the text below) are from the U.S. government's landmark 1999 Institute of Medicine (IOM) report, Marijuana and Medicine: Assessing the Science Base. The full text of the report is available for free online at the above link, and is searchable. The table of contents by chapter is on the right side. Quotes below are followed by their references. Emphasis added.
Page 109: "Indeed, epidemiological data indicate that in the general population marijuana use is not associated with increased mortality. 138"
- 138. Sidney S, Beck JE, Tekawa IS, Quesenberry CP Jr, Friedman GD. 1997a. Marijuana use and mortality. American Journal of Public Health 87:585—590.
Page 107: "When heavy marijuana use accompanies these symptoms [amotivation], the drug is often cited as the cause, but no convincing data demonstrate a causal relationship between marijuana smoking and these behavior characteristics. 23"
- 23. Chait LD, Pierri J. 1992. Effects of smoked marijuana on human performance: A critical review. In: L Murphy and A Bartke, Editors, Marijuana/Cannabinoids: Neurobiology and Neurophysiology. Boca Raton, FL: CRC Press. Pp. 387—424.
Page 119: "There is no conclusive evidence that marijuana causes cancer in humans, including cancers usually related to tobacco use."
---
Compare the IOM report quotes to this quote about tobacco:
"Every week, 52 weeks a year, some 8000 people in this country die from tobacco-related diseases, their lives ended prematurely by an aggressive tobacco industry and the addictive properties of nicotine." - American Journal of Critical Care, March 2002. Nursing, our public deaths, and the tobacco industry. By Ruth E. Malone.
Categories
Edit